A second TOEFL test is recommended
TOEFL 101: How do I study for the TOEFL?
What is TOEFL How do I prepare for the TOEFL? What can I expect on the test day? Should I do the TOEFL and are there any alternatives to the TOEFL? In this TOEFL guide and experience report, I hope to be able to answer these and other questions for you.
First of all, I did the TOEFL iBT to study at an English-speaking university. Since I spent a year in the USA during my high school years, spent a lot of time abroad and partly studied in English, I basically have a very high level of English. I talk to native English speakers on a regular basis and watch English-language films mostly in their original version. On my first attempt, I was able to achieve 114 out of 120 possible points straight away. For orientation: This number of points is sufficient to study at Harvard (100), MIT (100), Stanford (100), Oxford (110), Cambridge (110) and whatever their names are.
However, I didn't become a fan of the test, as you can read below.
But I would like to share my experiences with you and help you understand what this test is about and how you can prepare yourself to get your desired result. To avoid confusion, my experience report is exclusively about the internet-based test - TOEFL iBT test, which is carried out in the test center on the computer.
Click on the chapters in the table of contents to skip paragraphs.
Table of Contents
What is the TOEFL?
By now it should be more or less clear what the TOEFL tests: The TOEFL tests the knowledge of the English language of non-native speakers. TOEFL stands for 'Test of English as a Foreign Language'. The test is standardized and is now recognized by most universities as an admission requirement. It is carried out worldwide by the Educational Testing Service (ETS), has existed since 1964 and has already been completed by 22 million people.
The test is based on 'American English' and is aimed primarily at pupils and students who are more advanced and would like to study in English. It therefore only makes sense to register for the TOEFL with an English level of B1 (the Common European Framework of Reference) and above. In addition, it is unfortunately only valid for two years, which is a shame for the high price of around 230 €.
However, it is offered regularly and in numerous cities. You can find exam locations and exam dates on the ETS website.
Why do the TOEFL and alternatives to the test?
There are few reasons to do the TOEFL. Because as I said, it is relatively expensive and does not last long. But for my application to a university in an English-speaking country, I needed proof of my English skills. Many universities accept the TOEFL or other standardized tests for this.
I decided on the TOEFL because it offered me a good schedule and geography. I registered for the test in Vienna because it is held there in the very center of the city at the Austrian Exchange Service (OeAD).
I also wanted to be as flexible as possible with regard to the exam dates. The test is offered weekly in the larger cities of Germany. But I had to register about a month in advance to get a free place. So you shouldn't forget to register in time.
Alternatives to the TOEFL are, for example, the CAE, CPE, IELTS, PTE Academic and the Trinity ISE. It is best to find out in advance which test is recognized, recommended and offered in your area at your institution.
When I was at school, I took the Cambridge Certificate in Advanced English - CAE, also a standardized English test, and I have the feeling that it works relatively similarly. However, the CAE is more general and also valid for a lifetime. During the language part, the examinee speaks to a British native speaker instead of a computer, which looks something like this.
How is the TOEFL structured?
The TOEFL iBT consists of four parts: Reading, Listening, Speaking and Writing. In this order. 0-30 points can be achieved in each of the areas. The test takes a total of approx. 4 hours and takes place alone on the computer in the test center.
Since the TOEFL is aimed particularly at students, the content of the test is very university-related. Most of the questions are single choice questions, ie. You choose one of four answers. Then there are a few multiple choice questions and a few tasks that have to be assigned. The task types are always the same and the structure of the exam tests is very similar, only the composition of the task types varies slightly from test to test and of course the content of the tasks.
Reading
Approx. 3-4 texts are read in the reading part. The texts are intended to simulate typical textbook texts, contain some foreign words and come from various academic disciplines. (Biology, archeology, geography, anthropology, art history, psychology, economics, etc.) It feels like there are often texts that deal with a rare species of penguin, the root growth of a North African tree, the development of American film in the early 20th century, or similarly specific and eccentric issues are involved. This also applies to the other parts of the test.
Reading comprehension and a little vocabulary are tested. What does unprecedented, immeasurably, despondent, illusory or devised mean?
Tip: There is only a limited amount of time for this part, so it is advisable to skim through the text and read more carefully when answering the questions. For answering the single and multiple choice questions, you will be successful with the exclusion principle, among other things.
Listening
In this part, listening comprehension is tested on the basis of some dialogues and university lectures. The (American) English is easy to understand and the dialogues are about everyday things in the life of a student. Taking notes is permitted and encouraged, as is the case in the speaking part.
Tip: You can listen to sample tests here

Speaking
Here the tested person is asked about an everyday topic and is allowed to express his or her own opinion. In the following, the skills are tested together, a short text is first read or a lecture / dialogue is listened to in order to then reproduce or comment on its content.
Tip: For speaking and writing, it is actually advisable not to learn things by heart or to use fixed linguistic patterns, but it certainly doesn't hurt to make a small list of idioms (e.g. My opinion is ..., In my experience ..., Personally, ..., for example , ... for instance ...).
Writing
In writing, too, the first task is to read and listen to, and then write. And in the final part, a somewhat longer text, in the style of a discussion or an essay, should be written.
Tip: Get used to the American QWERTY keyboard.
Self-assessment: is it the right test for me?
Can you use a computer, click buttons, type reasonably quickly?
You have no problem speaking into a microphone when you are pressed for time?
Can you listen and take notes or remember what you've heard?
Do you understand or prefer American English?
Are you good at dealing with (sometimes misleading) single and multiple choice questions?
Do you deal a lot with English-language sources that are used for education and not just for entertainment?
If you answered most of these questions with 'Yes', then the test format should suit you well.
How is the TOEFL assessed?
What is convincing about the TOEFL is the simplicity of the assessment. There are a total of 120 points and in each part (reading, listening, speaking, writing) up to 30 points can be achieved. The results of the multiple choice tasks are evaluated automatically, while speaking and writing are evaluated retrospectively by several examiners. You try to be able to evaluate as objectively as possible.
At most universities you will be admitted as an applicant with a TOEFL iBT score of around 80+. The more selective the university, the higher the required score. Top universities in the USA require a score of 100 points, while Oxbridge applicants are only admitted with a score of 110 or more.
For orientation, a TOEFL score of 42 corresponds to the B1 of the Common European Framework of Reference (CEFR), B2 from 72 points, from 95 points you have a level of C1 or higher.
Fun fact: Austria and the Netherlands come out on top in the TOEFL statistics, ahead of the countries in which English is spoken as a native speaker. This is probably due to the fact that native speakers do not have to take the TOEFL and in the respective countries it is more likely that foreigners take the test. In any case, with German (and Dutch) as your mother tongue, statistically speaking, you have the best chance of a very good result. The average of points with German as mother tongue is 99 points (with Dutch 100 points).
The test day
The test takes a total of approx. 4 hours with an obligatory 10-minute break. However, you should be on site at least 30 minutes earlier with a valid photo ID to register. Reading-listening-pause-speaking-writing then follow in this order.
In my case, you could put all of your belongings in a locker, and food and drinks in a locker. Before I was allowed to enter the test room, I was briefly surrounded by a metal detector and had to take a kind of oath not to cheat. In the test room, I was assigned a blank sheet of paper, a pen and a PC with headphones. The individual places as well as the break room are video-monitored. In general, the mood for the exam was rather tense, but the staff on site was very friendly and helpful.
Since everyone is let in individually, everyone starts at a different point in time. I wasn't prepared for it and felt distracted when others who were already in the speaking part talked while I was still in the reading or listening part.
Tips for the test day:
Sleep well, drink and eat appropriately - after all, 4 hours of full concentration are required
Pack your own, quick-to-eat snack and a drink
Be prepared that you are not alone there and learn to block out disturbing noises
Learn well, because those who are well prepared are less nervous
How do I prepare for the TOEFL?
Which brings us to the actual tips for the TOEFL. To prepare for the TOEFL you should:
Find out whether you need the TOEFL, whether it is the right test for you, what number of points you need to achieve and by when and where you will take the test
Find out more about the TOEFL and take a look at a sample test on the website
Become aware of the level of your English and plan accordingly how much you have to learn for the test in order to achieve your desired number of points
Register for the TOEFL in good time: Depending on your location, you should expect a few weeks lead time and allow enough time to study, in addition you should allow enough time to repeat the test if necessary
When registering, you can choose from different packages that include learning materials and a manual (more on this below)
You can also choose to which addresses or institutions you would like to have your results sent (up to 4 institutions are included in the test fee)
Collect your learning materials and learn: in this process you should understand how the test is structured, acquire the necessary technical skills (vocabulary, grammar, ability to express yourself, listening and reading comprehension), and get to know and simulate the test format (e.g. in the form of trial tests )
How much time should I plan to study?
How much time you need to study depends on your level of English and your desired result. There is clearly no magic bullet for this, because everyone has different circumstances and learns differently.
The further your knowledge is from your desired score, the more time you should logically plan. For a self-assessment, look again at the CEFR to TOEFL table and which CEFR language skills you have. And do a test test to assess.
TOEFL in 3 days - for the efficient: When your English skills are significantly better than the number of points expected of you and the TOEFL is a mere formality for you.
TOEFL in three days or TOEFL in a week, is that possible? Yes and no. If your English is at a good C1 to C2 level and you want to achieve around 100 points or less (this is the average in this country, although mainly students take the test), three days of learning would probably be enough. In this case, you have already done a lot at university in English, or you have been to a bilingual school and you actually understand everything you hear and read.
Basically, you only have to take a look at how the test is structured, use a few trial tests to familiarize yourself with the types of tasks and timing, and ensure that you can achieve the desired number of points.
1 week - 1 month: If your knowledge of English is already very good but you are not quite sure whether your English corresponds exactly to the number of points you want to achieve or you do not know such tests.
1 month and more: (Mostly recommended) If you want to get a score above your current level of English. Note that you have to plan disproportionately more time here, as the content of the TOEFL itself is already designed for advanced language skills.
Danger: Even if your English is great, I would advise against taking a test unprepared, unless you have enough time and money to take the test several times. Since the test has its own format and your answers should ideally have a certain structure, it makes sense to deal with the test format in advance.
I had quite a lot of time as I had signed up more than a month earlier and probably would have had to study less to get a sufficient result. I would have needed at least 100 points, but to be on the safe side (the test is quite expensive), I wanted to achieve a significantly better result. I started learning about a month beforehand, with an average of 2-3 times a week.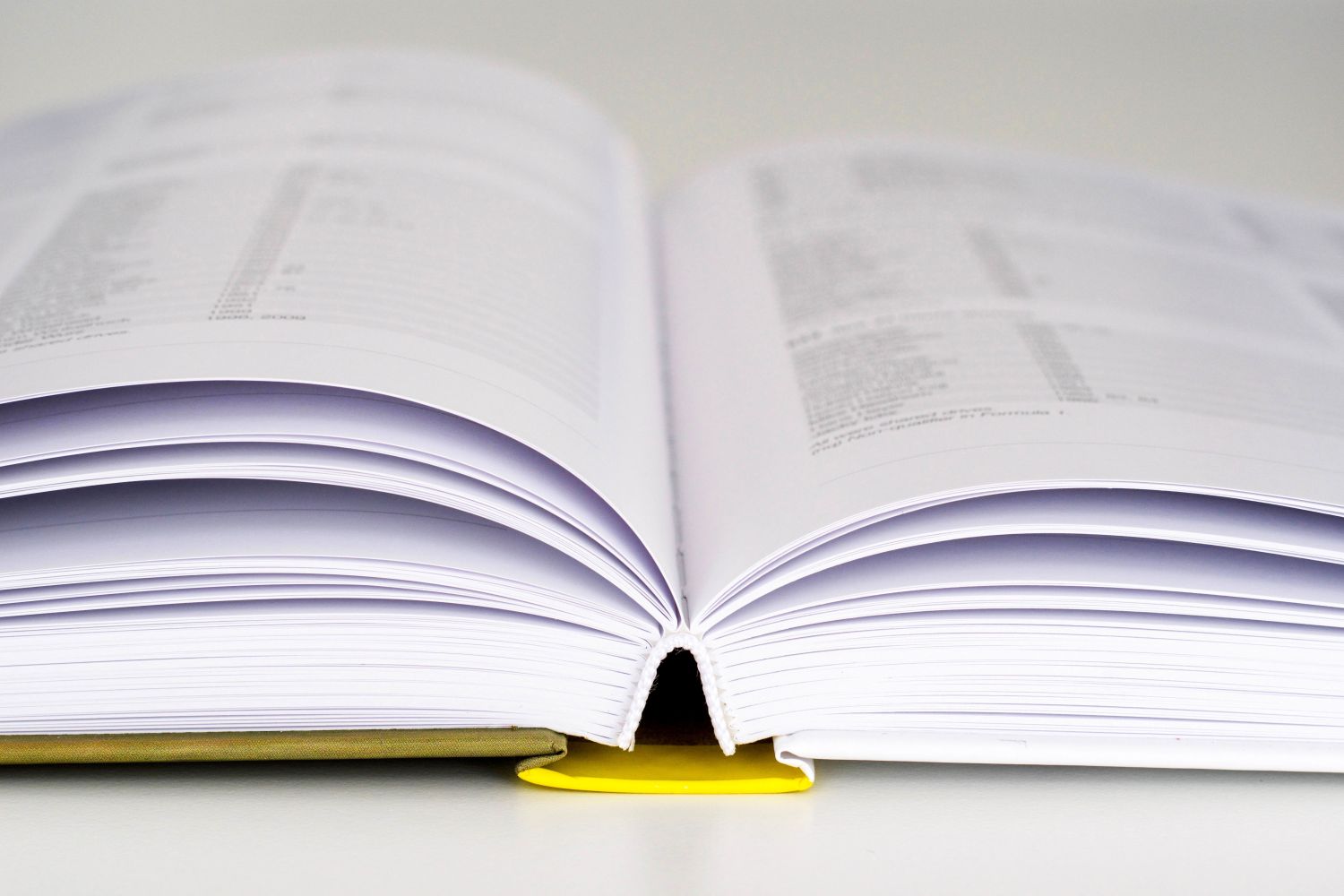 What TOEFL learning materials and sources are there?
You can already find some information about the test on the ETS homepage. When registering for the test, you will also be offered learning materials in different 'Value Packs'. You can also find all sorts of practice materials for the test on the Internet.
Official learning materials from ETS
TOEFL Test Prep Planner:This free guide is a good introduction to getting to know the test format and offers some learning strategies and preparation measures.
TOEFL QuickPrep: On the ETS website you will find four complete sample tests with audio files free of charge. As the only learning material, these are only suitable for those who need little preparation for the TOEFL.
TOEFL Interactive sampler: A free downloadable application to practice exam questions (does not work on Mac).
The Official Guide to the TOEFL Test - The Handbook: Helpful to deal with the tasks in detail, including 4 practice tests. The questions are explained, it is described exactly what is expected in which type of task and why answers are wrong or correct. There is software for the 4 trial tests in which tests can be simulated. But you have to evaluate this yourself. If you don't have a lot of experience with such tests, it can be worth investing in the guide. Try to create the most realistic exam situation possible during the trial tests (no aids, time to stop, record audio on the mobile phone, etc.). Buy the book on Amazon.
TOEFL Practice online: An exam can be simulated with TOEFL Practice online. The predicted test results are evaluated by computer, but give (at least in my case) the expected test result relatively accurately. The trial test takes place online using your own browser and, from a technical point of view, only works moderately on the Mac.
I have to admit that the manual was a bad investment for me (!), As much of what is in the book can also be found free of charge on the TOEFL website, I did not need a detailed answer to the individual questions, and most of it is self-explanatory anyway . The practice online test test was unfortunately the even bigger grab in the toilet, because the browser on my Mac did not work at all and my computer crashed the whole time as a result. And there were already a few sample tests in the manual. However, I think that for someone who is unsure or wants to practice a lot, these two materials can be very helpful.
Various platforms
You will certainly not have missed the fact that there are numerous platforms on the Internet on which you can study for the TOEFL and which offer you material to study. But before you sign up on an expensive platform that you don't know if it can really help you, I would recommend you to use the free sources first.
There are e.g. numerous free YouTube videos on the topic.
Popular prep books
The 'Official Guide' is the official preparation manual for the TOEFL test.
The book 'Cracking the TOEFL iBT' seems to have very good reviews and is the bestseller as far as I know.
English language media
In order to improve your general language skills, I recommend that you read a lot in English and watch films or series in English and seek contact with native speakers to improve your ability to express yourself:
Read magazines and newspapers in English
For example: National Geographic, Discover, New York Times etc.
Many articles on National Geographic are indicative of the content of the TOEFL texts:
Listen to podcasts and watch TedTalks
And more TED talks.
Here is a list of good science podcasts. BBC Discovery, for example, has a wide range of scientific topics
Let us help you learn - online tutoring
Now, thanks to the internet, you can easily connect with people around the world. There are numerous tutoring platforms where you can take tuition from native English speakers. Preply is an American platform where you can get lessons from people from all over the world.
There are also tutoring platforms in German-speaking countries where native German speakers can help you learn. Sometimes it can be helpful to learn a language from someone who has the same mother tongue or a similar starting point.
I give tutoring at Easy-Tutor myself and would be happy to help you learn. If you need help to put together an individual learning plan for your goals, want to work on content-related questions or are looking for general support, you can book a tutoring lesson with me here. You can find me in English, Business Administration and Chinese.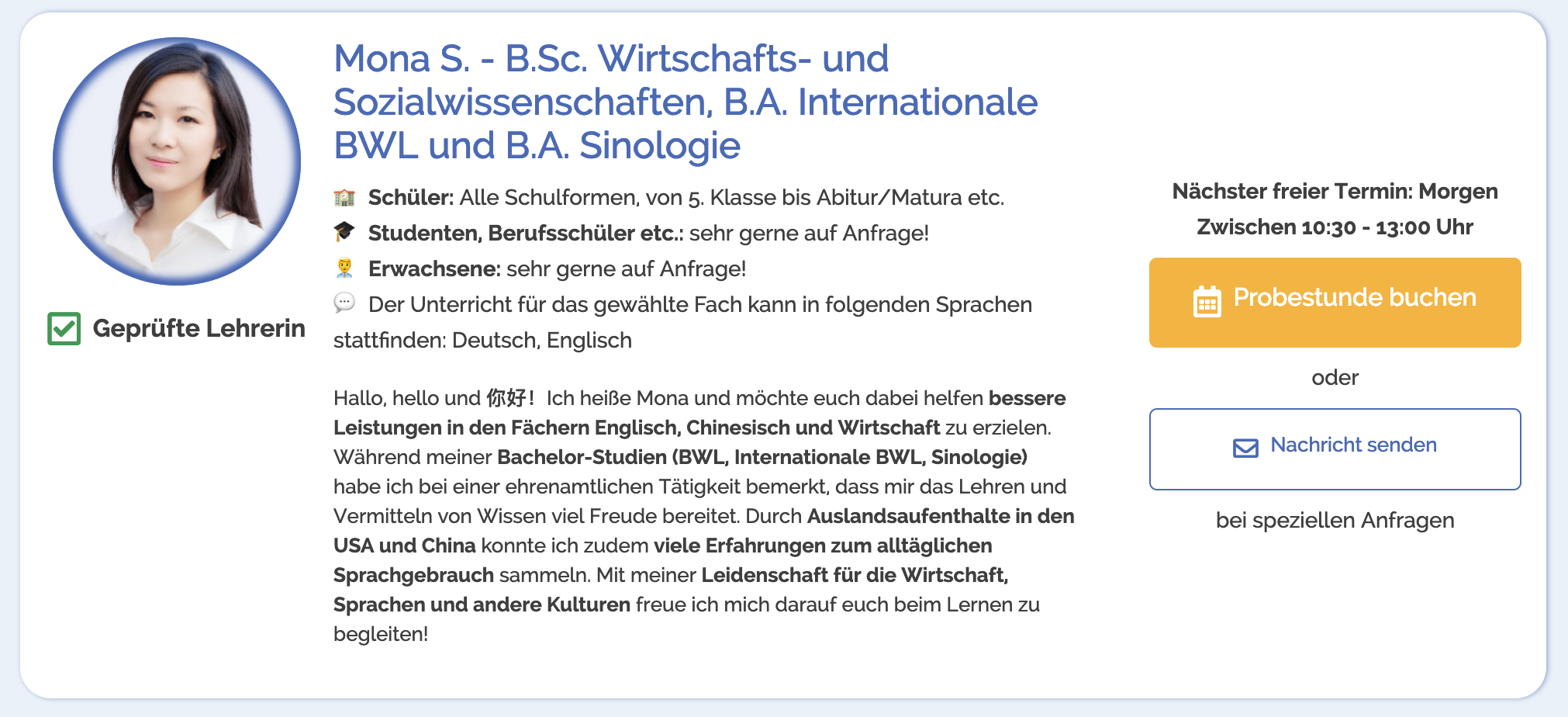 Annoying: Why you shouldn't do the TOEFL
Apart from the fact that the result is only valid for two years and the test for it is relatively expensive, there are some other aspects of the TOEFL that are suboptimal in terms of price-performance. The process of the test itself was flawless but parts of the organization of the whole thing are a disaster.
A friend of mine took the test in the past and needed her result relatively urgently. However, the organization had lost its test, so it had no results. She ended up having to repeat the test, but didn't have to pay the fee again.
When I ordered the e-book (Official Guide), the audio files were not sent to me. I then had to write to support, who was very helpful in getting the files. In addition, the Official Guide had one or two (printing) errors.
The online registration form / access to the website works, but it is terribly outdated and cumbersome to use. When I wanted to have my result sent to my desired institution a few days before the exam, it was difficult to find the right input page and enter the institution. (Attention: You have to specify the recipient of the test result before the test in order to use this service at no additional cost). My university appeared somewhere, but the address had an error (it is not possible to enter an institutional address yourself). Endlessly researched, nothing found - again wrote to support, this time prompt and friendly again, but not quite as helpful. Then I found the input window for the free delivery service and my result apparently arrived at the right place despite the error.
By far the worst and most frustrating thing was the Practice Online Trial Test, in which my Mac got stuck several times at the beginning and in the middle and crashed. Not a great feeling, with the thought that I can do the test once and it will cost me around $ 30 (which is not cheap in itself). After my computer hung up 20 times and I spent half an hour researching in forums what the problem might be, it finally worked. (Tip: do not use a Mac and certainly not a Safari to open the application!)
Conclusion
Personally, I feel that the TOEFL is doing its job well. It is aimed primarily at students in Speech and its content relates to the university environment. In addition, it is relatively transparent how you are rated and how your own result is composed.
In retrospect, what would I do differently? I could have saved a little money by just taking the book without the online test, or by doing without both. I would also have had to study significantly less for the test. I think that at my level of English, the time I invested in learning only marginally contributed to a better test result.
Would I recommend it or do it again? Yes and no and only if I had to. If you don't absolutely need this test and the circumstances permit, I would look for a test that has unlimited validity. Often these are not significantly more expensive. However, the TOEFL is characterized by the fact that it is accepted almost everywhere and is held in many places and often.
I look forward to hearing more about your experience with the TOEFL. How was your TOEFL experience? Or are you planning to do the TOEFL? If you have any questions about the test or the content, or are wondering how you can best prepare yourself for it, you are welcome to book a tutoring with me at any time.
TOEFL 101: How do I study for the TOEFL? 2019-04-112019-04-11https: //online- Sprachen-lernen.com/wp-content/uploads/2017/03/osl-logo-1.jpgOnline language learninghttps: //online-sprach-lernen.com/wp-content/uploads/2019/04/toefl-englisch-test-nachhilfe.jpg200px200px