Membrane keyboards are good
Membrane keyboard, glass keyboard: sterile keyboard technologies, how do they work?

0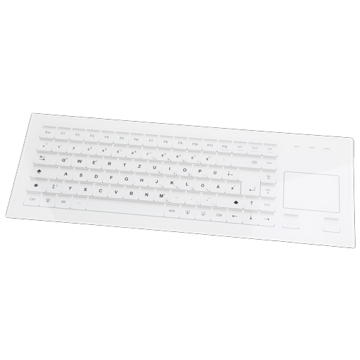 Swipe instead of typing: Keyboards on the way to Generation Z. Specialist article in meditronic Journal 2019.
Swipe instead of typing: Sterile keyboard technologies on the way to Generation Z
Generation Z is in love with technology. Grown up in a networked world with smartphones, apps and social media, those born after 1995 deal with the latest technologies as a matter of course. Contact with modern hardware and software is a matter of course. The manufacturers of industrial and medical data input devices are also feeling this: Keyboards are in demand that are waterproof and disinfectable on the one hand, and also easy to type on the other. The ranking of the decades-long favorite technologies is changing: Generation Z prioritizes capacitive keyboard technologies that are familiar from cell phones, smartphones and tablets just out of habit. Swipe and continue. Here, above all, sterile glass keyboards score, which in terms of their feel are most comparable with the operating feeling of tablets & Co. However, they are not so well suited for fast data entry and large amounts of data. Here again, short-stroke membrane keyboards are recommended. But even there you have to distinguish precisely between the different key technologies and the respective requirements of the user.
Wipe and continue: glass surfaces provide the familiar operating experience
Keyboards and mice are the ultimate germ carriers. They should be disinfected frequently in both medical technology and industrial workplaces. This is hardly possible with normal computer keyboards, as liquids and disinfectants would penetrate the keyboard and damage the electronics. That is why there are special keyboards for Windows and Mac computers that have a closed surface and can be easily wiped off with cleaning agents. Modern alpha-numeric glass keyboards are increasingly popular companions when it comes to hygiene and sterility in the workplace, for example in hospitals, medical practices, in the food industry or in other adverse areas of application. The keyboards usually have a degree of protection from DIN IP65 upwards. They have capacitive buttons that work largely without any pressure or force. They are resistant to liquids and disinfectants and the glass surface is usually acid, hand sweat, dust and liquid resistant. This surface coating is becoming increasingly popular for the next generation. Haptic habit scores and a chic look is added. Nevertheless: Both are often not possible: Easy to clean and easy to type. Because glass surfaces are less suitable for typing large amounts of data, as each individual key has to be tapped with a certain finger pressure. In the long run, this high operating force is exhausting and unhealthy for the user. Unfortunately not recommended for frequent typists.
Type and continue: membrane keyboards with mechanical keys
Working on a waterproof keyboard is fun because it can be completely disinfected or cleaned as required without much effort. In terms of its feel, however, the keyboard cannot be compared to a conventional keyboard. A distinction is made here between two main key technologies: membrane keyboards with snap-action disc (click frog) or with mechanical short-stroke keys under the membrane. The former type of keyboard is very popular and widely used. A flat contact spring or snap disk (gold-plated) is inserted into the switch sandwich. In this case, this snap disk replaces the contact foil. Metal snap disks can be used for a more precise tactility and a higher actuation force. For the user, however, this means pressing the button vigorously. This input technology is generally popular for the classic PIN entry at machines: search and type. Here, the entry must be made slowly and correctly, otherwise you have annoying problems with PIN, PUK & Co.
A membrane keyboard with mechanical short-stroke keys is recommended for handling large amounts of data in sterile or dirty environments. These are located directly under the film and give haptic feedback to the finger immediately after typing. Mechanical keys are known to be particularly user-friendly and easy to operate. They require significantly less actuation force compared to capacitive technologies. Nevertheless, they do not provide a familiar office feeling, because fast 10-finger typing is difficult to implement even with this technology. Recently, however, there have been some keyboards that work with an improved haptic edge embossing of the keys. Thanks to this further developed function, the haptic perception in particular is strengthened. If the user presses a button, the short-stroke buttons deliver vibro-tactile stimuli back to him via the fingertips. This optimizes both the visual finger guidance and the switching feel.
Conclusion
Generation Z users who work in hygiene-sensitive or stressful environments will probably be accompanied by the tried and tested keyboard technologies in the medium term. The future may be a combination of touch and tip: more screen and less mouse and keyboard.
You might also be interested in:
"Entypo pictograms by Daniel Bruce - www.otypo.com"