Are public toilets a public place?
---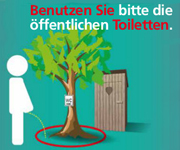 SÖR operates 35 public toilets in the city of Nuremberg. The cleaning of the public toilets is largely outsourced to private cleaning companies. Short-term cleaning and minor repairs are carried out by SÖR employees.
Please report intentional soiling, malfunctions in the toilets and damage caused by vandalism using our contact form or by calling our service hotline on 09 11/2 31-76 37.
Advertising pillar toilets
Advertising pillar toilets have a heated cabin and are equipped with coat hooks, wash basins, mirrors, paper dispensers and waste bins. The use of the toilet costs - as in the other facilities - 50 cents. After each use, an automatic full cleaning with biodegradable cleaning agents and disinfectants takes place. This process takes 55 seconds. The toilet consumes 15 liters of water per use.
The advertising pillar toilets installed so far at Josephsplatz, Königstrasse, Kornmarkt, Maxtor, Karl-Grillenberger-Strasse, Färbergasse and Innere Laufer Platz are very well received by the population. Another advertising pillar toilet is already under construction on Prinzregentenufer above Wöhrder Wiese.
Toilet for everyone
The "toilet for everyone" is intended for people with complex disabilities. The special interior design makes everyday life easier for severely and multiply disabled people. All users have to do is bring their own lift towel. You also need the Euro toilet key to use it.
Since December 2, 2019, a second "toilet for everyone" can be used in the Baumeisterhaus, Bauhof 9.
The toilet is accessible Monday to Friday from 8 a.m. to 6 p.m.
The "Toilet for Everyone" has been in the "Weißer Turm" subway station since March 2018. SÖR built it together with the Pure Life Foundation.
Accessible toilets
Most toilets are barrier-free or have their own wheelchair-accessible toilets. These toilets are equipped with a nationwide standardized locking system ("Euro key"). Use of the toilets is free of charge for holders of the euro key.

Euro keys can be obtained from the Association of Victims of War and Military Service, the Disabled and Pensioners of Germany (VdK).
More about the euro key
Contact the VdK
Federal Association of Self-Help for the Physically Disabled
The Euro key project
You might also be interested in
Public toilets in the city center (PDF, 1.7 MB)
Nice toilet
Toilet for everyone