What's wrong with Melbourne
Curfew in Melbourne due to Corona
The population of Australia's second largest city, Melbourne, is hit particularly hard. There is a strict night curfew from 8:00 p.m. to 5:00 a.m. The only exceptions are for the way to work and for medical and nursing care, said the Prime Minister of Victoria, Daniel Andrews. In addition, residents are only allowed to do outdoor sports for one hour a day. In addition, only one person per household is allowed to go shopping every day.
Restrictions should apply for six weeks
The people in Melbourne should also be no more than five kilometers from their home, said Andrews. The head of government of the state justified the increase in the corona-related restrictions to level four with "unacceptably high" infection rates. The new regulations are to remain in force until September 13th.
Weddings are also banned for the next six weeks, Andrews added. During the first wave of infection in Australia, the authorities had limited wedding celebrations to five guests. Andrews said the strict measures were needed to keep the pandemic from dragging on "for months and months": "We have no choice."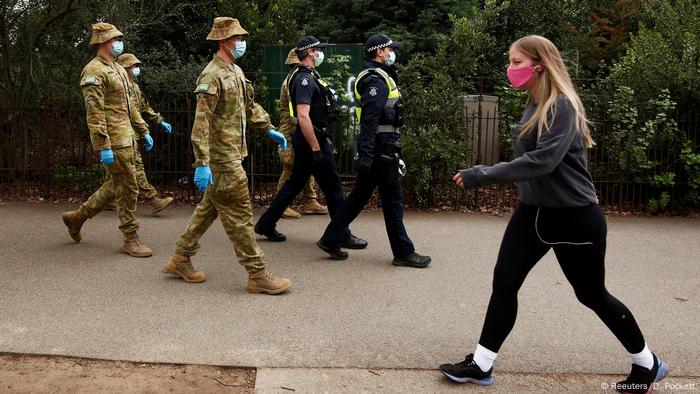 Exercise outdoors - but only for an hour a day
Most schools and universities in Melbourne are slated to return to online classes starting Thursday. Daycare centers will also be closed again. Further restrictions, such as for companies, would be announced on Monday, Andrews said.
Restrictions in other parts of the state are less stringent, according to Andrews. Outside Melbourne, a level three curfew will apply starting Wednesday at midnight. People are then only allowed to leave their homes to go to work, school, university or to the doctor and to do essential shopping.
The imposition of the state of emergency gives the police and other authorities additional powers to enforce the restrictions imposed.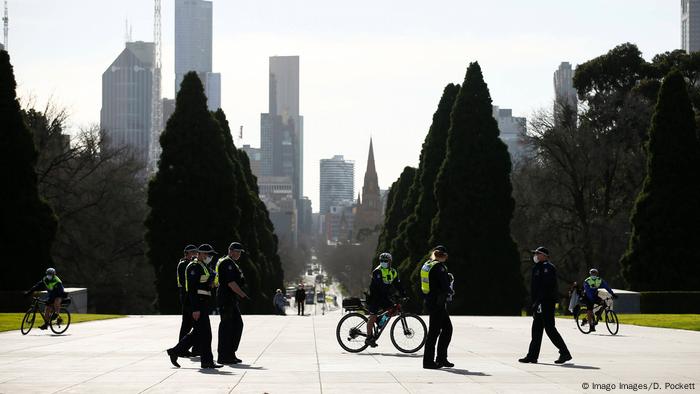 Police patrol in Melbourne
The state of Victoria, which was particularly hard hit by the corona pandemic, recorded the highest number of new infections since the beginning of the health crisis on Thursday. 723 cases were added within 24 hours. On Sunday, authorities reported 671 new infections and seven deaths related to the SARS-CoV-2 virus.
A milder curfew has been in effect in Melbourne for three weeks. In mid-July, the metropolis was the first city in Australia to impose a general mask requirement. The state of Victoria has around 6.7 million inhabitants, almost five million of whom live in Melbourne. The state recently accounted for around 60 percent of the around 18,000 confirmed cases of corona infection nationwide.
qu / se (dpa, afp, rtr)