Taiwan is still considered an independent country
China's threat of war against Taiwan
China is tightening its tone towards Taiwan and is threatening war in response to alleged independence struggles. The recent military actions in the Taiwan Strait are in response to interference by foreign forces and provocations from those seeking independence, Defense Ministry spokesman Wu Qian said in Beijing. The Taiwan Strait is a strait between the Chinese province of Fujian in the west and the island of Taiwan in the east. It connects the East China with the South China Sea.
A "handful of people" in Taiwan wanted to break away from China. But if you play with fire, you will get burned. "Taiwan's independence means war," Wu said. Taiwan is inseparable from the People's Republic of China, whose armed forces respond to provocations and interference from abroad. Taiwan reported repeated violations of its airspace by Chinese military aircraft over the weekend.
US President Biden pledges aid
US President Joe Biden pledged support for the island nation, underscoring the role of the United States as a protective power. The USA therefore called on the People's Republic to cease its military, diplomatic and economic pressure on Taiwan and to start a dialogue. An association around the aircraft carrier "Theodore Roosevelt" cruised according to the US military in the area in the South China Sea to "promote the freedom of the seas".
Like many other states, the USA does not maintain any formal diplomatic relations with Taiwan out of consideration for China. However, they support the country with military equipment. Wu said the recent military operations in the Taiwan Strait were due to the security situation there. They are necessary to ensure the national security and sovereignty of China.
The Eternal Apostate Province
China regards Taiwan as a breakaway province and threatens all states that recognize its independence with consequences. The leadership in Beijing is convinced that the democratically elected government of Taiwan is headed for a formal declaration of independence. Taiwan's President Tsai Ing Wen, on the other hand, has stated several times that the country is already independent and is called the Republic of China.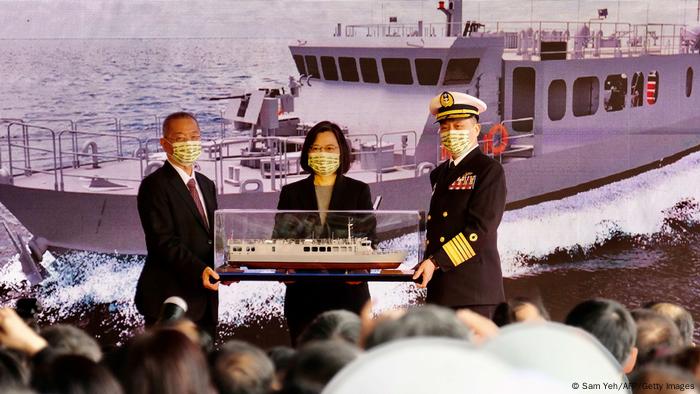 Taiwan does not remain idle either: President Tsai Ing-wen presented new speedboats for the Navy in mid-December
The dispute over the status of Taiwan stems from the civil war in China when the troops of the national Chinese Kuomintang fled to Taiwan after their defeat by the communists. The Communist People's Republic was founded in Beijing in 1949, while Taiwan is governed as the "Republic of China".
sti / fab (dpa, rtr)