Has an article ever changed your life?
Barren new world?
Disenchantment, emotions and experiments
As if the Berlin winter wasn't already hard enough, this year there is only the monotony of your own walls, escape is almost impossible. Berlin's cultural workers tell what is currently driving them and getting them through the day.
Tobias Bamborschke, singer of the band Isolation Berlin, age 32, from Berlin-Prenzlauer Berg
about poetry and space in the head
Walking carries me through this time. I am currently writing my second volume of poetry, on my grandmother's typewriter.
The poems are about lovesickness, but also a lot about loneliness, fear, depression, quarreling with one's own ego - topics that are sure to bother many at the moment. I often go out to think, walk around in Prenzlauer Berg or in Mitte. I also have my permanent bench in the Weinbergspark, which I always sit on when it's not as cold as it is now. Otherwise I read a lot - especially poems by Georg Trakl and "Mein Leben als Mann" by Philip Roth.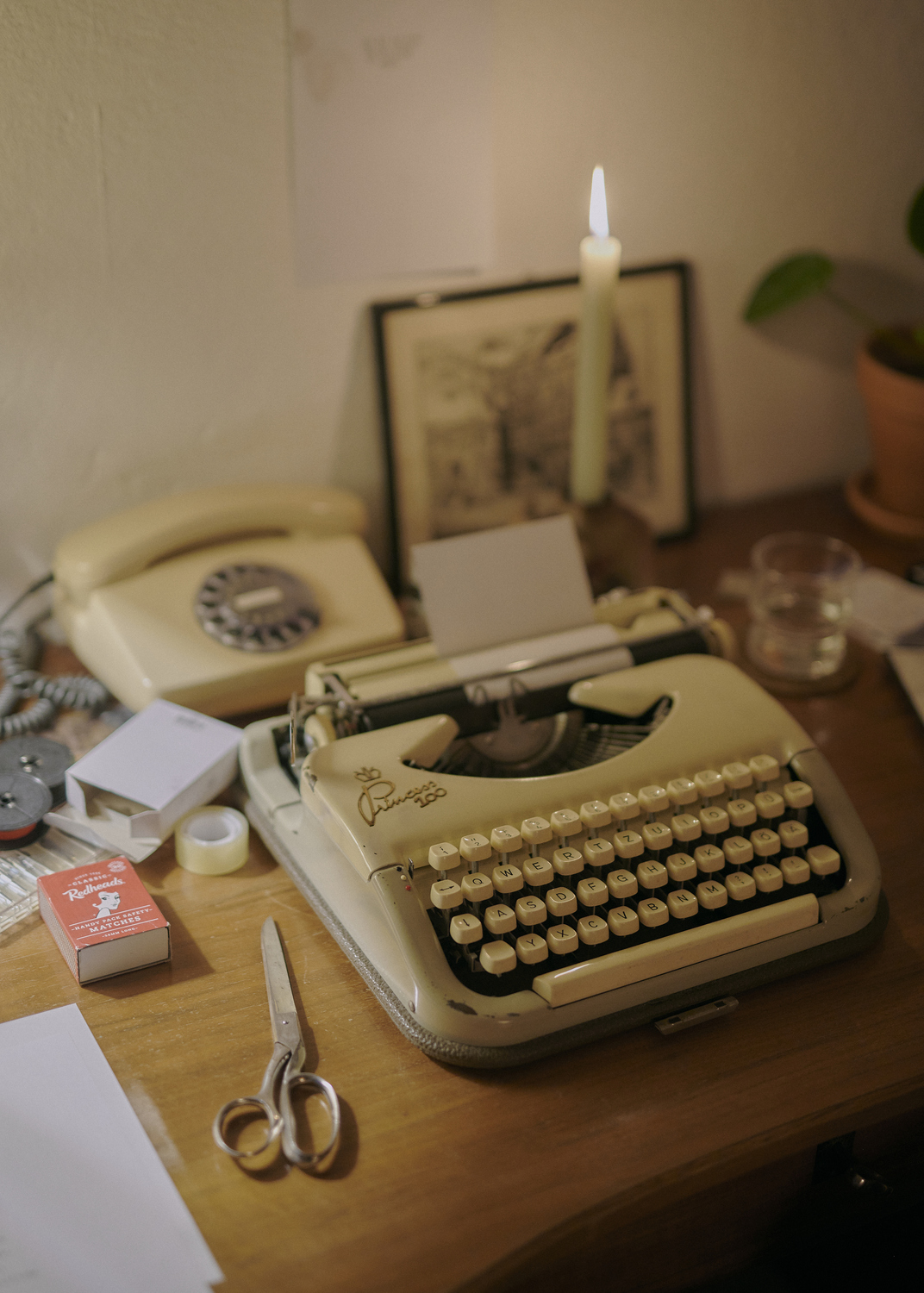 Normally I would go to concerts, pubs or exhibitions to get inspiration - it's all very lonely right now. I don't use social media and I'm rarely on the Internet. When I fill myself with useless information from the Internet, I have less space in my head for the important things. What I also miss, of course, are my own concerts. We have just recorded our new album, the first single will be released in March. Actually, we would then celebrate it big, play in front of an audience. It's terrible when you've written new songs and you can't play them in front of an audience, that's an energy of its own that you get from the audience. You need it to fill the songs with life.
The isolation of Berlin, in which I find myself at the moment, is completely different from the one that gave rise to the band name. At that time I had just broken up and was terribly depressed. The whole time I just sat in the kitchen with my friend and bandmate Max and drank. The isolation was very overwhelming, I broke up with all the people I thought were not good for me. The current situation is also tiring and sobering - but I'm not in such bad emotional shape. Most of all have things to work on and hold on to. And people who take care of me, who believe in me. The third album by Isolation Berlin as well as the new volume with poems and taverns by Tobias Bamborschke will be released in autumn 2021.
Isabell Heimerdinger, artist, 57 years old, from Berlin-Prenzlauer Berg
about an inner parallel world and two film projects
In spring 2020 I was in the process of finishing an experimental documentary for which I had traveled to São Tomé and Príncipe with the cameraman Ivan Markovic.
In the short film "Soon It Will Be Dark", after the first few minutes, you come across a man who is clearing the undergrowth in the shade of huge trees and follows him along the coast into the village, from day into night and from dark back into light. Pictures and sound create a dense atmosphere, we do not use any dialogue. From the abundant material that we shot in São Tomé, another 60-minute film is planned: "All The Days Inbetween." Actually, we wanted to be finished with the editing for a long time, but the restricted freedom of travel (and a empty cash register) got in our way. Some scenes would have to be re-shot, but this has not been possible so far.
But necessity is known to make inventive and so the experimental format is supplemented by another experiment: The participating amateur actors themselves started to shoot according to our stage directions. To do this, they use the equipment they have - their cell phones. I get the new recordings about once a week and we send our comments back. The progress is quite leisurely, but we have time! The videos that we receive in this way surprise again and again with a casual esprit that can hardly be surpassed. In addition, constellations emerge that were not originally planned, but have become indispensable.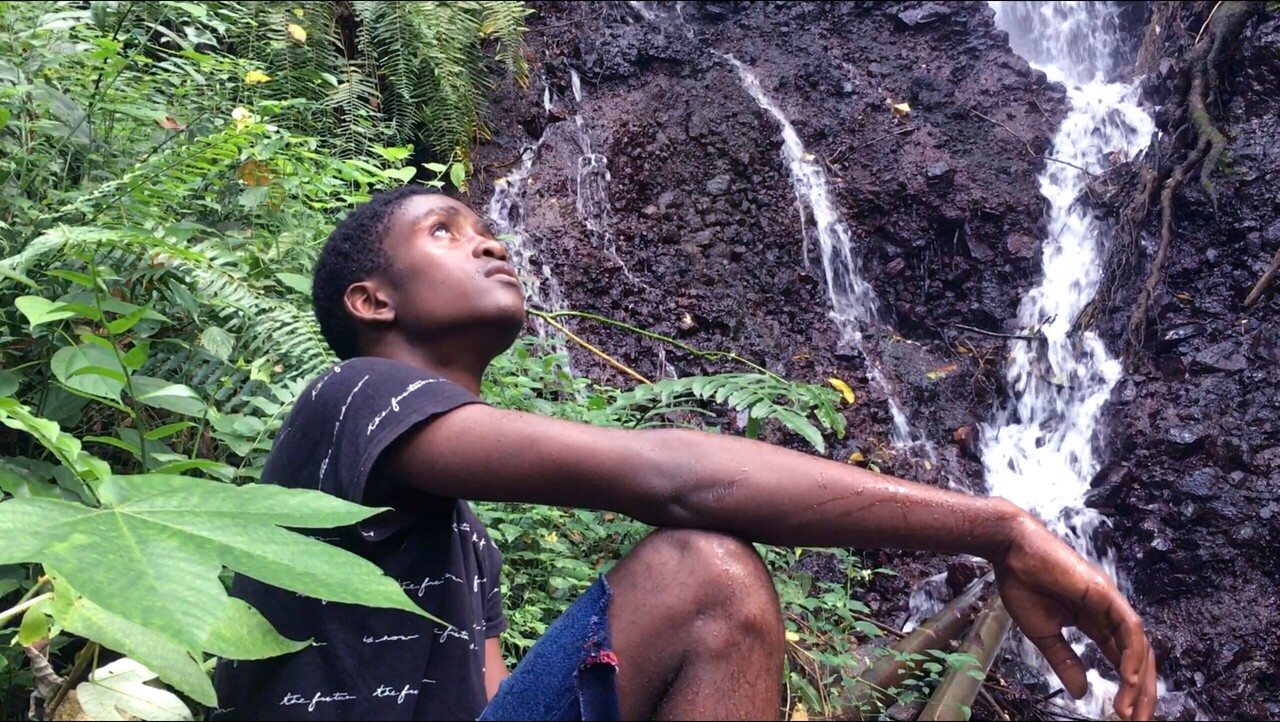 The actors film with maximum impartiality and thus enable a much deeper insight into their lives than we would have ever managed with our camera. Working on the project helps me enormously through the lockdown, because it creates a kind of inner parallel world - even if I'm not sitting directly in front of the pictures, I can see them. The idea of ​​being able to travel to festivals again with the finished film at some point keeps me afloat. Unfortunately, this is only possible to a very limited extent for "Soon It Will Be Dark". That even the Berlinale cannot take place properly this year is really depressing. For me, these ten days in February are always a highlight of the gray Berlin season. There are gaps that open up and slowly change our lives. It is all the more important to hold on to exciting ideas. For me, this also includes working on my ceramics - fortunately I have my studio at home in Prenzlauer Berg, and can work there fairly independently of the crisis.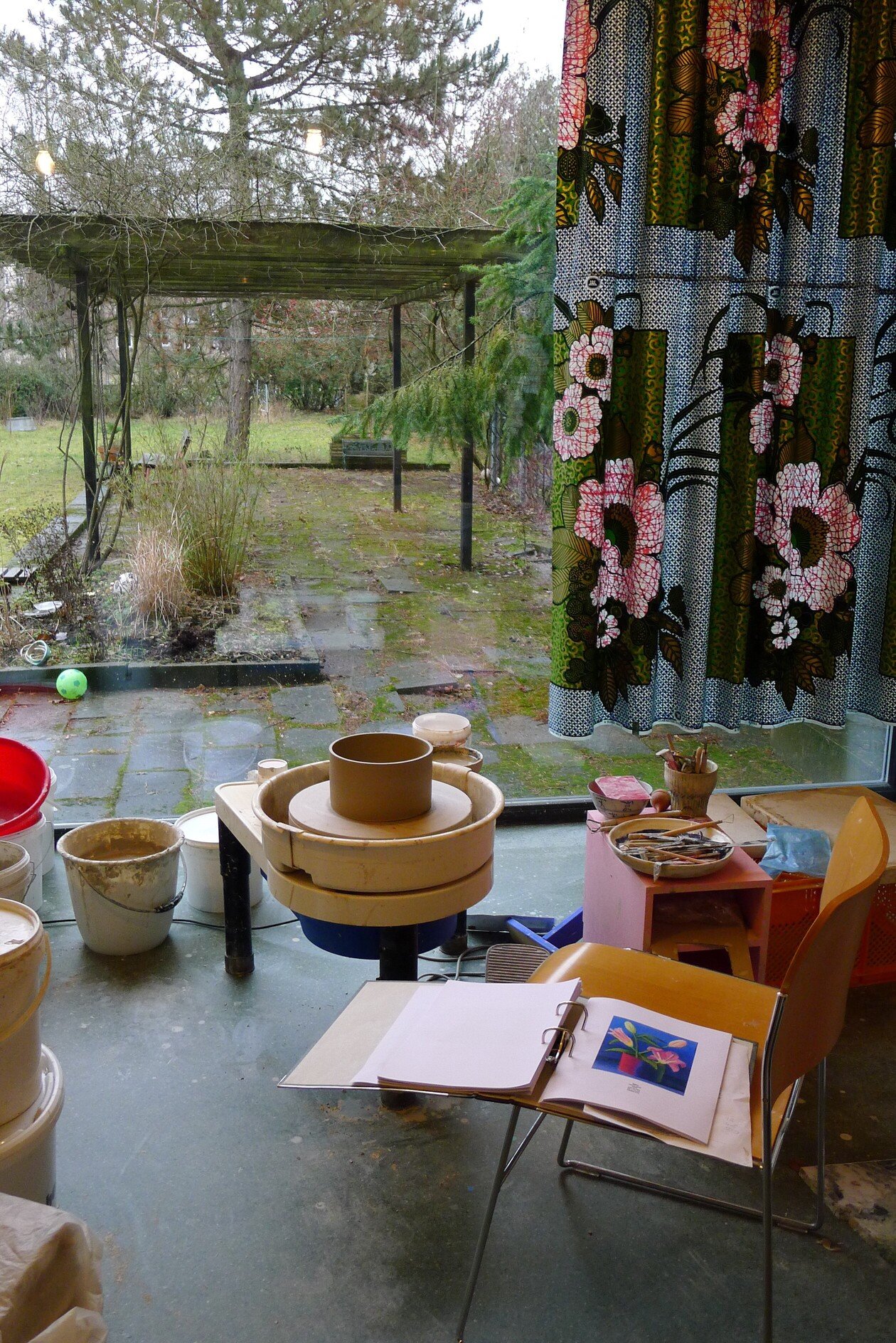 At the moment I am developing a larger project for two exhibitions that will be shown in June 2021 at Mehdi Chouakri in Berlin and Norma Mangione in Turin. To do this, I translate painted vases from the extremely colorful still lifes of flowers by an Italian painter back into three-dimensionality. So it's almost the opposite of working on a film, where reality becomes an image. Working from templates is a whole new experience for me. Amazingly, it gives me a lot of freedom! The balancing act between the two media fills my everyday life to the full: alternating in the light of the tropics in front of the screen, or with hours of manual work in the studio, I don't feel like I'm missing a lot outside.
Photos: Carlos Marx Martins Horta, Isabell Heimerdinger
Tell us your Corona story!
If you also want to tell us your impressions from this special time, you can send us your Corona story:
Standstill, worry and selflessness
What is it like to have a kidney donated during the pandemic? And how does someone get the prescriptions for important medication if risky trips through the city are to be avoided?
Ricarda
about backward technology in Germany
I was sent to work from home relatively early on by my employer. Since I work for a telecommunications company, this was possible before. Because of that, not much has changed for me, except that I haven't seen my colleagues for a long time. I find it exciting to see how everyone around me is now working at home. But I also see with concern how others have developed.
Changing a complete system from now on brings problems. A friend of mine took her tower PC home with her to be able to work there. I think that's good because she's one of the risk patients and doesn't expose herself to unnecessary dangers. Still, it's outdated technology. She works for the state and in my opinion that's where the most savings are made. It's normal for me to have a work laptop from which I can dial in to the Internet and work with a secure connection anywhere. The technology for this comes from the employer. But I couldn't imagine having to set up all the technology at home.
With another friend it is even worse: She works for the state of Brandenburg and has to use her own devices for mobile days to answer e-mails. Very horrible! That's why I see it as positive that Corona is causing a rethink in this regard. Apparently it is only through this new situation that something is done at all. But when I see how it is implemented, I dread it. Not only that the equipment is outdated and not mobile, but also the technology. If nothing changes, I see black. If more is finally not being done in Germany for digitization, we will make ourselves just as dependent on other countries as we were on China during the Corona era - for masks and medicines, for example.
Stefanie Hanssen, 52 years old, from Berlin-Friedenau
over a thousand new ideas and uncomplicated help
There are days when your head can barely grasp the crisis. Shut down. Silence. Standstill. My company is ten years old, we wanted to expand in spring 2020, we have planned to convert our fragrance factory, and we have taken on additional staff. Then came March and with it the crisis that brought all the good plans to a standstill. Suddenly there were a thousand new ideas in my head. Keep up. Networks. Do good
Fortunately, my online shop is strong and I can build on it. My "shrunk" team of wonderful employees works concentrated from home, creates #supportyourlocals and recommends Berlin brands that don't have it easy in the crisis. And procures thousands of small gifts from cooperation partners for #carepaket, which we will distribute to doctors, nurses and nurses in Berlin (the Tagesspiegel is also included!).
And then help comes from the Berliner Landesbank, which will get us through the coming weeks. Fast, uncomplicated, fair. What luck to live in a state that supports us uncompromisingly in this exceptional situation. I want to say thank you for that! Perhaps crises are catalysts of progress. Today I want to and have to believe that. Maybe today is the time to rethink things. I'm just getting started.
Addendum, nine months later: My team and I have understood the new mechanisms that will determine the future success of retail. Our online shop is more aggressive, more seductive. Our customers like interactive elements; We are now selling our manufactory fragrances more playfully with an extended fragrance test and a new blog provides tips: Designers, actors and brands they are friends with tell us why everything olfactory is really important to them. And they tell why they like our perfumes so much. We were able to double the number of our followers on social media, the many positive letters and comments make us happy. We are currently developing a new fragrance that will tell of the moment when we will all feel relieved of a burden. The fragrance works with delicate flowers, wild fruits and fine woods. And tells of a long journey to ourselves.
Hanfried Wiegel-Herlan, 64 years old, from Berlin-Lichtenrade
about the new everyday life in outpatient care
Outpatient care services are among those who are still working during these times. My colleagues go to the members of a high-risk group, the elderly and multimorbid. There is hardly any activity in which my colleagues can keep the necessary distance. That means, they work permanently in the danger zone. But what would the alternative be? No injecting insulin, no tending to wounds, no changing incontinence material, no preparing and serving meals?
Then our patient wouldThey are less likely to be infected inside and die of corona, but instead of derailed diabetes, blood poisoning or they would die of thirst. This is not an alternative! So our people have to get out there and risk being infected or infecting others. I bow my head in deep respect for the courage and selflessness of my people! It doesn't feel good for me as an employer. I am obliged to take all conceivable measures to reduce the risk to my employeesinside at work to be harmed to the minimum.
We have therefore taken some measures. These regulations partly contradict our professional ethos and our other procedures, which are geared towards collegial exchange and social rapprochement with our clientele. We have canceled all internal group meetings. Care transfers no longer take place in a personal conversation, but only by telephone or in writing. Company cars are used by the Kollegtaken home after their tour - which is otherwise strictly forbidden - to save them going to the office.
And the friendly chat in the office - actually essential for mental hygiene - has been a thing of the past for weeks. I do my job as managing director in the home office and two to three times a week after opening hours, sometimes at night, in the office. We recently had the first "suspected case" in our ranks, everyone held their breath: Who did the colleague meet? If it tests positive and fails: What "domino effect" can be expected with the rest of the nursing staff? How should we then the patientsupply inside? Two days later the all-clear: the test was negative. But the feeling remains in the pit of the stomach: If we fall over, terrible things will happen.
Addendum, three quarters of a year later: Our management team, consisting of two nursing service managers and four administrative employees, came to the conclusion very quickly: If the head is missing, nothing works. That would be missing if one of the six line employees tested positive and all the other five had to be quarantined. So in the spring we already formed two half teams, each with a nursing manager and two administrators who work alternately on Monday, Wednesday, Friday or Tuesday, Thursday and Saturday and never see each other. If one tests positive, the team fails, but the other can still work and "keep the business running".
In the summer we took a break from this practice; but we have been working like this again since the beginning of December. This means an enormous burden for those who are currently working in the office: They often work ten hours or more a day. Since we were obliged by the Senate Department for Health and Nursing to test the nursing staff for Corona every two days, the stress has increased. The six nurses who have been qualified test whenever possible. During this time, however, they can no longer do their actual job.
In all of this, we are violating the regulations of the new ordinance of the Senate Department for Health from December 16, 2020. Among other things, it says in a general sense: Those who are not tested every two days may no longer be used for body-friendly care services. Since we cannot keep up this pace, we would have to do quite a few collegeinside "take it out of circulation" with the result that those in need of care were left unsupervised. We don't do that because, in our opinion, the health risks, for example as a result of neglecting insulin injections, would be much greater than those that would arise from a "wider-meshed" test cycle. That's why I've already sent an overload report to the Senate Administration - without any reaction. The responsibility for choosing between Teufel and Beelzebub has not taken on either politics or the long-term care and health insurance companies. That is what we have to do with nursing services. We do too, but we must expect to be punished for it.
Illness, strength and preciousness
The distance rules are bad when visits to the woman in the nursing home become impossible. The pandemic has also given some people unexpected family time - or even a new love.
Cathleen Kuschnereit, 47 years old, from Uckermark
about new strength and survival with a new organ
I was very lucky to receive a kidney donation from my mom on March 11, 2020 as planned. We were the penultimate kidney transplant planned in the Charité Berlin, organized by the class team around Dr. Liefeldt and the contact to Dr. Schnorr. Dr. Peters and Dr. Fredersdorf operated on us without complications, simply sensational and, as the recipient, the third best thing I have experienced so far in my 47-year-old life.
My mom then went into quarantine in Mecklenburg-Western Pomerania, where my father looked after her, and I went to the Uckermark, where my dear husband looked after me. Due to Corona, I now had to take care of myself even more and was alone a lot, but I also had to really regain my strength first, which I managed faster than my mom. Although my husband was only in the home office, he was not permanently available to me - he works for a large bank. On June 1, he went back to the office. My fear grew that he would bring me Covid-19, which could probably put my survival in great danger.
I didn't see my beloved daughter, who lives in Berlin, for months. When the easing came, we made plans for small family get-togethers. Everything has been canceled so far because there was Corona twice in the immediate vicinity and one more time one of my nephews had a severe infection. The last time I saw my parents was on my birthday in May. My sister was visiting with my nephews last week.
I really don't want to whine, I'm very grateful.How lucky I am and what a great gift I got, thanks to the courage and health of my mommy! Living a life like this - which is not to say that you are healthy after a kidney transplant - is true happiness, for me at least. I wasn't on dialysis, it was a direct living donation - this is best for the body and the life cycle of the donor kidney. Most wait ten years for a kidney.
Now everyone goes back to their jobs and is stressed. Just like last summer, it got really lonely around me. Many do not want to have anything to do with illness and resolve it at a distance. As a 47-year-old woman, I already get the impression of how some old people live and what it would be like if, as an old grandmother, I sat alone in our old house. Just like my grandma - but the garden was always there. I share this passion with her. Unfortunately, I am not allowed to dig this year, but I am allowed to enjoy it, and I am doing that to the fullest.
When next year I will be able to swim again in our nearby lake and hopefully Mami's kidney will allow me to continue to function so well, then I will look back on that time and say to myself: You see, you have mastered that too. I wish all the best to all lonely and sick people in this difficult and fearful time.
Helen Raab, 28 years old, from Berlin-Schönweide
about her difficulties in getting a prescription for her medication in Corona times
I'm 28. At 17, I was diagnosed with Hashimoto's thyroid disease. As the tablets are running out, I need a new prescription. The problem: I have to drive through Berlin for hours by public transport. An avoidable way I think. My family doctor knows me and they can send me the prescription by post. So I'll call the practice at the end of March. But it's not as simple as I imagined it would be: This quarter, it is said, they will no longer be able to write me a prescription.
That won't work until April. However, they cannot send this prescription by post because as the new quarter begins, they have to read my health insurance card. I ask if I can hand in the card later. No I can not. I'm just about to tell the doctor's assistant that the average age of the patients in her practice is very high, so she has an idea: She can prepare everything, then I just have to rush into the practice. The fact that I have to roam around Berlin for ages - I don't have a car - cannot be avoided. I need the pills. If I do not take it, it will lead to depression and insomnia. I'm thinking.
Can't my family doctor inform a colleague in my area - could I pick up the prescription there? "Try your luck!" Says the nurse and ends the conversation. She leaves me speechless: Why is my luck actually? I might not care. I'm young, despite Hashimoto, a symptom-free course of the coronavirus cannot be ruled out. I am disappointed, but I have gained one more experience. A pandemic cannot be that bad: The German bureaucracy continues to function.
Fence visits, twin sisters and togetherness
The dream of a cruise turned into a nightmare for some, while others found the holiday paradise within their own four walls. About traveling and wanderlust in times of Corona.
Kerstin Tyler, 53 years old, from Berlin-Lichterfelde
about unexpected family happiness
My children are now 22 and 19 years old. My daughter is studying in another city and my son is working in his gap year after graduating from high school. When everyone is in Berlin, it's time to go out and meet friends, when we work as parents, the children are still asleep and vice versa. The quarantine changed that.
It was the semester break, we as parents worked in the home office, the family was together 24/7. Every day we planned food together, cooked and ate, played skat or puzzled, gathered on the sofa in the evening in front of the news and went on the permitted bike rides in the fresh air.
In addition to all the restrictions and fears, Corona gave me a repetition of family time that I neither expected nor demanded. When my daughter drove back to her place of study today, tears came to me.
Alessa Schulz, 33 years old, from Frankfurt am Main
about overcoming an ocean and a brave love
We had to look on Facebook to see how long we had actually known each other. It turned out: We met for the first time eight years ago - there will be nine in 2021. It was also the only time - until we moved in together last year. In between there were years of sporadic contact, the one or the other promise to definitely see each other again, and the feeling of having found someone who is worth getting to know better.
Besides, the Atlantic Ocean lay between us. We caught up on getting to know each other properly last year. And maybe skipped a few steps.
We first saw each other in New York at a party. I was visiting a friend. And we obviously made a lasting impression on each other. In 2019, we started - out of nowhere - to write to each other again. It got bigger and bigger. Until we decided in early 2020 to meet in Milan in April. Then came Corona. The meeting place in Milan became Berlin. Nothing came of Berlin at first either.
But the daily news turned into telephoned nights. Until it was clear for both of them that we wanted to dare the crazy: a common future in Germany. But before it gets too crazy: Eric, now my friend, had actually already made up the plan to move to Germany. However, our feelings may have accelerated the whole thing a bit. But it wasn't just the feelings that took us by surprise in 2020. Corona has also contributed to one or the other element of surprise. While we were busy making plans for our future, these were repeatedly postponed indefinitely.
The great relief came in August when the German government decided that permanent partners from third countries could enter Germany. Eric started breaking his tent in New York, quitting his apartment and - finally - booking a flight to Germany. After all, it took until October before we could hug each other at Frankfurt Airport. Who would have thought that kissing with a mask can also have something romantic! Since then we haven't spent a day apart, celebrated Christmas and New Year's Eve together, but above all: we haven't regretted our decision for a day. All that's missing is Ernest, Eric's cat. He is expected to be coming from New York in February.
Maya Rauschenberger, 7 years old, from Heidelberg
about their everyday life without school
Hello my Name Is Maya. I am 7 years old and live in Heidelberg. I spend the Corona period with my mom and my one and a half year old twin sisters. My dad has to work. It's not a school, but I still have to work on my notebooks.
My mom made a daily schedule. Breakfast is served at eight in the morning. Before that, I have to get ready for the day and tidy my desk. At nine o'clock I have one hour of work. Then we do sport for about half an hour with YouTube videos. Then I play or read and then my second hour of work comes. Two hours of work are much less than at school, which I think is good. But I sometimes argue with mom because she always wants to explain everything to me and is not my teacher! I miss my friends and my teachers a bit, but it's nice with mom and my sisters too.
Once a day we go out and ride bicycles, go for a walk or collect beautiful things from nature. I'm also allowed to watch 30 minutes of TV every day or play an app on mom's cell phone. I'm actually not afraid of the coronavirus, just that my grandma could get sick.
Kathi L., 24 years old, from Berlin-Charlottenburg
About a love that changed her life
Now that it's soon to be the first anniversary, I remember the last birthday party well. The last one I got to visit before the collapse of what we called normalcy. In January 2020 I met someone who did not live in the same city. What turned into harmless chatting quickly lost its meaning when the first lockdown was imposed in March.
Then I no longer dealt with the question of whether I should visit a strange man in a strange city. Rather, like many other young people, I wondered whether I should go back to my parents' home to at least have the freedom of a garden.
An evening in June was all the more surprising for me when I went to a bar for the first time in months. When I asked tipsy if he wasn't a friend againwas going to visit inside Berlin, he made the direct suggestion to spend a whole weekend with me. Above all, however, the suggestion was to spend this time WITH me - touchingly considerate of all the inconveniences that might arise for you. I said yes. A month later I spent one of my possibly most beautiful weekends with him.
From then on everything went very quickly and we kept visiting each other. I really wanted to hold onto him and maintain this stability that has become rare in those crazy times. And so in the end, quite unexpectedly, a love developed in the Corona year. After announcing new measures to combat pandemics, I panicked and grab my cell phone to find the exact rules that exclude movement restrictions for "spouses and life partnersinside "confirm. But despite the fear that we will suddenly no longer be able to see each other, 2020 was not a lost year for me. And I'm sure it won't be in 2021 either.
Dietrich Tuchelt
about visits to the fences and missing hugs
So far I have been able to visit my wife, who suffers from dementia, every day at the home. This direct contact between us had something happy for both of them. With the corona crisis that is over and almost at the end of my life I experience this intangible separation of only speaking to loved ones from a distance.
The encounters take place in the home garden, separated from each other by a fence, twice a week for 15 minutes each time. Therefore, the currently beautiful weather is a blessing, as it allows for meetings in the countryside. But that does not comfort the fact that you can no longer hug your loved one. There are little greetings from cards that I give me as a little compensation. And there is the thought as a companion who tells you that this event will last for months and that there is no end in sight.
Petra Hoffmann, 69 years old, from Berlin-Charlottenburg
A few weeks ago I gathered up all my courage and put a personals ad in the newspaper, old woman - old school. I didn't like looking around on dating platforms. My life is full; nevertheless I would like a partner, the male view of life, discussion. "There is only two truth to be found," said Hannah Arendt and yes, of course someone to touch too.
I received two letters. Contact with one of them was short, our interests were too different. I made an appointment with the other. It was easy to get into conversation, I liked how enthusiastically he talked about his job and how bright his eyes were. I liked his sense of humor. We met again for a walk in "our" beloved Berlin neighborhood. Then came the ban on contact. No more walks together, sitting on a bench, literally getting closer, no first shy hug.
We are personable, we can talk to each other well, we have a lot to talk about and we are curious about each other. We quickly came to an agreement that we would stay at home - and since then we have been using the phone almost every day. We get to know each other and meanwhile I feel a faint heartbeat when we talk on the phone. How is he doing?
Ingrid Lang, 65 years old, from Berlin-Schöneberg
about an unusual birthday party
We strictly adhere to the corona contact restrictions, even if it is difficult. But it's especially stupid when a family member has a special birthday: Our Fabi turned 30.
This special birthday should now be celebrated despite Corona. A brilliant idea of ​​the fiancé brought the solution. The two of them live in a four-person flat share, which can have the impressive number of around twelve electronic devices suitable for digital communication. So there was a secret meeting with everyone in good timemet inside to be reachable at a certain time by means of the home computer.
The birthday child was then locked in the kitchen for a short time until all the participants were present, solo or in groups, on different screens, each with a candle, cake, champagne glasses or birthday hat and a horn. When led back into the room, the main character saw himself surrounded by many people on large and small screens that were set up in the room and were ready to celebrate! A successful surprise and lots of fun for the whole birthday party.
Dreams, sadness and expensive taxis
The theater rehearsal cannot take place? Then new pen pals will be made! But the sociable hours with others are missing. Some still find solutions.
Ahmed Sow, 25 years old, from Dakar, Senegal
About a dream that has to wait
I led a normal life until the coronavirus reached my home town of Senegal. I went to university for lectures, met up with friends, and gave Quran lessons on the weekends. In my free time, I occasionally went to a restaurant with German friends I met in Senegal.
Suddenly all activities stopped. Senegal reported its first corona case in early March. In order to contain the contagion and spread of the virus, the Senegalese government decided to close the borders. To this day it has not been lifted. In addition, the president announced a state of emergency in a televised address. It is linked to a curfew from 8 p.m. to 6 a.m. This measure hit me very hard, especially since I had booked and paid for a flight to Germany for March 31, 2020. My year of voluntary social work in a clinic in Germany was supposed to start at the beginning of April. It has not yet been decided whether I can take the flight. At the moment I am blocked, I cannot go to Germany, to the university in Dakar or to teach the Koran. Schools are also closed in Senegal.
Then there is the economic situation. Public transport has become very expensive. As spaces on buses and taxis were kept to a minimum, prices rose. For the time being, I can no longer visit my parents, who live 15 kilometers away from me. Overland journeys are not allowed and with the high prices I am not able to travel. Eating, sleeping, watching TV and doing housework are now on my program. Since I live with my aunt with her two children and she has to stay at home due to the exit restrictions, I help with the housework in her large house with a garden. I clean the house, water the plants in the garden, prepare the dining table and make tea.
This is very unusual for a man in my country. It is seen as a woman's job. However, I don't care. I find it necessary and helpful. Now I can devote myself to other subjects such as reading and writing. I have time for Senegalese and German literature, for example "Such a Long Letter" by Mariama and "What remains" by Christa Wolf. The Corona time will certainly not only remain strong in my memory.
Claus Fülbier, 70 years old, from Limburg-Linter
about a vacation paradise at home
"Then we're finally off on vacation!" Those were the first words my wife Conny said to me when we were planning our vacation together. It was our dream to spend 18 days on the holiday island of Koh Samui in 2020. We believed we deserved this long-awaited dream. But because of the corona virus, the trip was canceled.
At first we fell into a deep hole of sadness and gloom. In addition, there was the great concern not to get sick. The fear of losing one's job didn't affect us, but it did affect our friends. We, who work in the public sector, have been given short leave from work.
Then it was clear: we will stay at home! Only go shopping when it is necessary and do not make hamster purchases. We both go - hooked together - as lovers for half an hour through the local sun and enjoy the togetherness here.
We'restayinghome! There we crown our time together by not only carrying our partner visually on our hands. I read my dear wife's wishes from her eyes even before she says: "Please take the garbage outside to the bin".
We enjoy the situation of seeking closeness to our own husband or wife in order to be very familiar and close again. We don't want to take everyday occurrences for granted, but also thank you with a nice gesture.Now we get what we wanted to experience in the vacation we were looking for, here too. We make the best of the crisis. My wife and I try to create a certain kind of holiday mood. So we bring the partner a tasty cocktail on the sun-drenched balcony with the words "Do you have anything else to wish, Madam"? Or we shower together under a rain shower head, close our eyes and think we are on our way home to our bungalow and are surprised by a warm monsoon rain.
We conjure up our own paradise in our own apartment. Here we are Eve and Adam, to whom nothing can harm. If we can hold out like this for a long time, we'll survive the virus too. We always remain two people who love each other and other people and don't let their own virtual paradise be ruined, but enjoy it wholeheartedly.
What we used to see as something special when we were on vacation with strangers, everyone should now do to their fellow human beings and neighbors here at home. Friendly, helpful, courteous, nice and polite to approach everyone and see them for what they are: a person like you and me. I firmly believe that we will survive this difficult time better together than against each other. Perhaps, like the seven plagues, the virus was sent to us as a test by a higher power.
Bernhard Fred Gutknecht, 68 years old, from Treptow-Köpenick in Berlin
about a dream ship that turned into a nightmare
We, my wife Carmen and I, wanted to fulfill a lifelong dream. More than a year ago we booked a cruise with the "Artania" - known from the ARD series "Crazy About the Sea". First class flight via London with Qantas to Sydney. The trip started on March 7th and should be on April 11th 2020 ends in Lima, Peru. The South Seas should become our dream. Unfortunately, it became a nightmare!
When we arrived in Sydney, we first visited the city and its sights. This was followed by a five-day tour through Central Australia. Beautiful! Back on the ship there were still a few excursion offers for Sydney and the surrounding area. Corona was not an issue. Then, one day before leaving for New Zealand, we got the message that all ports of our other destinations - New Zealand, all South Sea Islands and Easter Island - are closed.
The captain Morton Hanssen decided on a direct return trip to Bremerhaven. The trip should take around four to five weeks. It only has to be refueled and groceries loaded. That should take place in the port of Fremantle / Perth. The journey there took about six days. All passengers had a fever on the way every day. First six people, then 37 people, had a fever and suspected corona.
In Fremantle we were initially in the roadstead. Australia had refused to travel. The country was largely spared from Corona. The sick were taken off board to a hospital. In the meantime we could go to the port. We were in the company of cargo ships. Other cruise ships were in the roadstead. It was now ordered to stay in the cabins. The food was put in front of the door.
We had a cabin with a large balcony, but many passengers were accommodated in small cabins, some with portholes. After many negotiations, we were flown to Frankfurt in four Condor planes. That was an evacuation. In the plane close together, mask during the entire flight, food and drinks in pre-packed containers, stopover in Phuket for refueling, then on to Frankfurt, a total of 24 hours. In Frankfurt we should be brought home by bus.
That was too much for us. We took a private taxi to Berlin at our own expense. Here then 14 days of quarantine. The health department checked daily by phone. Since we were only allowed to travel with hand luggage, our suitcases stayed on board. They should come by flight. Unfortunately it didn't work. The suitcases were brought to Germany on the "Artania" and arrived at the port on June 9, 2020. Then they were brought to us in Berlin.
During the trip, three people died of Covid-19, 36 people tested positive. We have canceled two more trips that have already been booked with Phoenix-Reisen. Unfortunately we had to pay the cancellation fee. Our health is worth it. Having had this experience, we are extremely careful. We don't understand how gullible some people are on the subject.
Athena Möller, 18 years old, from Berlin-Reinickendorf
about a hasty goodbye to the Philippines
I shouldn't be wearing a wool sweater right now, but a sweaty T-shirt. Instead of my favorite CD, I should only hear children screaming and not be connected to the WiFi, but get stuck in a dead zone. Without being able to say goodbye to all the house mothers, social workers and children, I had to leave my voluntary service in the Filipino children's rights organization. The Federal Ministry for Economic Cooperation and Development has made the decision that all volunteers in the "weltwärts" program should return to Germany as soon as possible because of the pandemic.
In our remote location, we didn't notice much of the chaos in the world. Nevertheless, we had to pack our bags within three hours and say goodbye. We had just overcome all the hurdles and were able to pursue our tasks without complications: working on the rice fields belonging to the project, accompanying the children to school, eating and playing with them. Recently we even had the capacity to plan larger projects, such as building a solar oven or holding a workshop on sexual self-determination.
The knowledge about the terrible child rights circumstances in the Philippines has shaped me a lot. Every single child has grown dear to my heart. Fortunately, the contract of my voluntary service runs as planned until August, from now on I can support the organization as much as possible from home. Creativity is required here. We had the idea to design worksheets for the children or to prepare presentations. Fortunately, I am not sitting at home useless and I am very grateful for that!
Roland K., 68 years old, from Berlin-Neukölln
about curious penguins and a dangerous region called home
My wife and I were on a Hurtigruten ship in Antarctica from early to mid-March. Thanks to the satellite internet, we were also able to follow the Corona news from the rest of the world in the Tagesspiegel beyond the Arctic Circle. Not only we, but also other passengers from Europe and America found the situation increasingly absurd: The distant home was increasingly transformed into a dangerous region, while the hostile Antarctica suddenly became a place of safety. When going ashore, distance rules only applied to animals: five meters, which the curious penguins did not adhere to.
In a Chilean station, the visitors were warmly welcomed with coffee and cake without a coronavirus getting in between. The mood was correspondingly subdued when it was time for the return journey - accompanied by a number of humpback whales: What about the flights? What can we expect at home? Almost wistfully we left the last Antarctic glaciers and mountain peaks behind. And indeed: in the port of Ushuaia / Tierra del Fuego, the passengers were caught by reality: they only left the ship with a protective mask.
In Buenos Aires there was a day of quarantine in the hotel guarded by the military before the last regular flight via Frankfurt to Berlin. But at least the thoughts remain free and keep going back to the continent where there is no coronavirus, but all the more carefree seals, penguins and whales!
Reading, suffering and passion
Walks through ghost towns, thongs as a mask, and a piece of clothing whose greatest time has come: About absurdities that Corona has brought about.
Ilona Grudda, 63 years old, from Engen
about the longing for common singing
I am the 1st chairwoman of the mixed choir "PopCorner-Chor Singen e.V." with currently 44 members. We usually rehearse once a week, but haven't been able to meet since mid-March. We had to cancel our summer concert, and our Christmas concert will also fall victim to the corona pandemic because we still cannot rehearse. A location that would be big enough to keep the necessary distances is not available to us.
Out of sheer desperation, we tried online rehearsals. That was neither fun nor sense, since singing and hearing each other together is not possible over the Internet. Everyone sang for themselves and only heard our choir director play the keyboard. We suffer a lot from having to forego the choir singing and the sociable hours within our group!
Manuela Weitkamp-Smith, 63 years old, from Berlin-Steglitz
about the rediscovery of letter writing
I am the freshest member of the "Spätzünder" ensemble, one of three main groups in the "Theater of Experiences". We were also completely thwarted by the vicious corona virus. No more rehearsals, no more performances, everything over from one day to the next!
So the idea arose that all 35 members of the theater's ensemble should write letters to each other so that contact can be maintained and some people from our creative group don't feel so lonely.
One of us designed a suitable algorithm, and we received the mailing lists with instructions on whom to write to. At first I looked a little bewildered at my list, with four exceptions I didn't know any of the thirteen people I was supposed to write to by July!
I looked into different black holes, but then light came into the darkness! After all, we had a common passion - acting! Plus, there are so many questions to ask when you want to get to know someone, the ballpoint pen just flitted across the paper!
It's always nice to receive mail, it's always exciting! You get insights into these lives, dreams, fates and thoughts. There really has to be such a stupid virus to show us how nice it is to give time to another person.
Time to sit down, take the pen and give him a glimpse into his own world for the next half hour - the new media do not have this connection and sustainability.
Wolfgang Werres, 76 years old, from Berlin-Schöneberg
about the new joy of reading the newspaper
Stay at home! Well said, hard done. But thank God there is the daily newspaper. If it is in the mailbox in the morning, the day is saved. It is easier than usual because there are no side dishes. A state that I really like. The newspaper has never been so important to me.
She organizes part of the day in a pleasant way. Structuring the time makes everything a bit more bearable and reading the newspaper is an integral part of my daily routine. Now that I have enough time, I read page by page, even the sports section, which I usually skip.
The longer posts and comments that I used to skim over for lack of time also show what I have missed. The many food for thought that will make you forget the precarious situation we are in for a while. I promise improvement in the future.
I read the local section more carefully than usual. This is where I get information and advice that cannot be covered by the normal news programs. What actions are planned in my area to help people in need? How can I change and improve my behavior myself? Who can I turn to if I have problems? Usually on the last page of the newspaper a new highlight awaits me: Sudoku. So I can keep busy for a while and am happy every time I find the solution quickly. My morning walk to the mailbox in the stairwell and finally my brain training with Sudoku are good for body and mind. Speaking of mailboxes: The group of people we should be grateful to include the newspaper deliverers.
Otto Bammel, 87 years old, from Pankow-Niederschönhausen in Berlin
about enjoying the terrace - without aircraft noise
That I can still experience that with my over 80 years! Originally, we had moved to green Pankow because of our retirement, back in 2006. We only realized late that the house we were buying was right in the approach lane to Tegel. This meant that, especially in the mornings and afternoons, a low-level aircraft thundered over our roof every three to four minutes. But we found out in good time that BER would be completed in 2012 and Tegel would be closed; retirement would have to wait a little longer. So we signed the sales contract.
However, we had never imagined that the inexorable regularity of the daily aircraft noise would be so annoying and harmful. A certain amount of getting used to it didn't help either. The only consolation remained that in 2012 the state treaty stipulated quiet would come into being in Tegel. We counted the years, and finally the months. And then - in 2012 - the big disappointment: It goes on! Our "Tegel-zu!" Festival that we had prepared with the neighbors took place anyway. Since then we have been waiting for retirees in Pankow and cannot even be sure that we will experience "Tegel-zu" at all.
We thought! And now this: Corona! Nobody could have suspected that such a tiny virus with its irrepressible urge to reproduce would turn the whole world, almost all air traffic and all Tegel plans in Berlin upside down. The result for Pankow: Within two weeks there are almost no more aircraft in the sky above us! My wife really fell asleep while resting in the deck chair on the terrace! For the first time since we live here. Corona does not care about fire-safe hall doors in BER, nor about its automatic sprinkler system, neither about international treaties nor environmental requirements. Corona is just there - and that's enough to finally give desperate seniors in Pankow their well-deserved retirement.
Finally, garden guests are no longer frightened with every overflight, finally we can have normal conversations again over Sunday afternoon coffee on the terrace without having to take a 20-second break every few minutes because of aircraft noise. Finally the air is (almost) as clean as on Usedom. However - the neighbor regretted this - the working people in our neighborhood have to buy alarm clocks, because the morning 6 o'clock machines are no longer available.
Lotter life, lockdown and shortness of breath
Jutta Kieber, 79 years old, from Bottrop
via a contactless walk in the first lockdown
I don't know what to do with Lockdown yet, but obediently follow the instructions and dare to take the permitted individual walk with cautious steps and a long distance, at least into the surrounding area and in the fresh air. The self-sewn mask must be tried out if it is to prove itself in use. A foreign body on the face. It makes it difficult to breathe and contracts around my mouth and nose when I breathe in too hard. It is very unusual, makes my thoughts bloom of shortness of breath and suffocation and thinks of the struggle for survival in the clinics.
The nearby city garden lures you into magical nature, and I never get bored around the town hall. Today it is bathing in the sun. The more than 100 year old brick building with the proud three-step tower welcomes me friendly and sad at the same time. No people on the town hall square, no children play on the drained modern fountain, no visitor strives towards the administration building, no guest enters the town hall tavern.
A city without inhabitants, as if dead; lonely, frighteningly quiet and eerie she seems to me. On the gable of the town hall, the plaque casts its spell on me again. A successful memorial against the Hitler dictatorship, an almost overlooked relief plate made of bronze. No bigger than an election poster, it can be seen on the outer wall at eye level. The color of the work of art is blurred in the darkened bricks of the building and does not push itself into the foreground. "Never again fascism - never again war - in memory of the resistance in Bottrop - 1933–1945" is carved on it.
I remember that in February our Lord Mayor put flowers on the board, fresh white flowers, right after our demonstration, in memory of the victims of right-wing extremist violence in Hanau. At this moment, sun and shadow enliven the vividly depicted warning. Skulls and human bones seem to tremble, hands reach up in search of help, grasp ropes under a dark roof of facelessness. Symbols of agony and death make me shudder.
A few steps away in the meadow, the almost 500-year-old bronze bell of St. Cyriakus sits enthroned on its concrete base. "Wat sall nu where come?" Can be read engraved in Low German. How appropriate, I determine for myself. The warning glides into the present, into a time when something unknown and deadly also threatens our peaceful city.Not a single passer-by can be seen all around, not a tourist who might be interested or looking for a conversation. With oppressive feelings I creep back into my single home like a stray mutt.
In front of the building authority building, the satisfied-looking miner greets me as a life-size bronze figure. "Good luck, old buddy", I greet you silently. The cars in the parking lot seem to be sleeping. Under the archway I finally meet a briskly striding man who passes me with a distance and mask and a nod of his head. I also nod and smile under my brightly colored mouth and nose protection. Perhaps one becomes friendlier in common needs? The pale inscription "Welcome to the restaurant mile" stretches across Gladbecker Straße. The sun roams the cozy restaurant alley. The otherwise lively pedestrian zone has been swept empty, no guests in the outdoor seating in the restaurants. The lattice benches in front of the shops, which are always clean and inviting, are also not occupied. Not even dogs go for a walk.
Two male figures sit close together on "my bench" in front of my apartment block. Her roaring laughter cannot be ignored. Hands and bottles gesticulate in the air next to disheveled hair. The men hit each other on haggard thighs in worn trousers. Her world seems to be right, her bottles are still half full. At least one of the two buddies is wearing a face mask. As I get closer, I see that it's not a mask, but a thong dangling under his nose. Narrow ribbons lead loosely to his ears. The red and black triangle just barely covers the mouth of the cheerful drinker. He pulls the scrap of cloth under his chin and takes a good swig from the bottle. Wide gaps between teeth shine, laugh at me unabashedly. I walk past without hesitation and can't stop the grin under my mask. Immediately it suppresses all gloomy thoughts.
Jens Bülskämper, 44 years old, from Münster
Karl Lagerfeld once said that those who indulge in the life of the lottery in sweatpants have lost control of their lives. This bon mot is one of the couturier's few insights that I do not want to endorse. Rather, I would like to pay tribute to the inconspicuous heroine of everyday life under the auspices - even if, after weeks of sitting on a pole, the commenting virologists and the chancellor watching over the events are already reflected in their greasy reflection.
Unfortunately, I can't wash the good piece, it is in use every day and another model is not on hand. Your flanking gold stripes give me something majestic these days when I walk to the refrigerator. If I get the embarrassment of putting on jeans for a stroll to the supermarket, I have to realize that the waist size seems almost lost due to the lockdown. This reveals the greatest weakness of the sporty legwear: thanks to its elastic waistband, it forgives a lot, maybe too much.
The origins of the popular classic are believed to be in the 1970s. The fact that the coronavirus is now able to revive the hairstyle trends of these years is unfortunately grist to the mill of outrageous conspiracy theories. My gold-striped treasure is not just any training pants: the "Beckenbauer" model heralds imperial crisis management. Not only that the Bavarian phrase "Dahoam is dahoam" seldom described the situation so aptly; it is our football wise man himself who can easily take on the analyzes of public intelligence these days: "Look, let's see".