Why is quinoa suddenly so popular
When buying food supplements or superfood mixes, it is also important to be careful. Quinoa could also be included here.
What quinoa and apples have in common
According to a review from 2018 (Journal of Allergy and Clinical Immunology) it could be that people who are sensitive to quinoa, i.e. who have allergies or intolerances, also have their problems with apples. So if you know that you cannot tolerate apples, it is best to start with only small amounts of quinoa if you want to try the pseudo-grain.
Is there an intolerance to saponins?
But it could also be that you are not directly sensitive to quinoa, but to the saponins that are on the surface of the small seeds. These are phytochemicals that are supposed to keep insects from nibbling on the granules.
How can you remove the saponins from quinoa?
However, saponins can be removed - washed off and thus avoided intolerance reactions or allergic reactions. To do this, pour water over the uncooked quinoa grains and let them stand for at least 30 minutes. Then you pour off the water, put the quinoa in a sieve and rinse it again thoroughly with water. You can then cook or steam the granules as usual. If you let them stand in the water overnight rather than half an hour, the cooking time is shortened.
Of course, saponins are not only found in or on quinoa, but also on amaranth (another pseudo-grain), chickpeas and other legumes. These should therefore be treated exactly as we have described for quinoa before consumption.
Saponins are actually healthy - if the dose is right
Spinach, tomatoes, asparagus, beetroot and many other foods also contain saponins, but inside so that they cannot be washed off and also in significantly smaller quantities, so that you often do not notice any intolerance here.
On the contrary. In small amounts, saponins are extremely healthy substances. They are said to have anti-inflammatory, expectorant and tonic properties as well as a preventive effect in terms of colon cancer.
In our article on peas, we covered the saponins and their numerous beneficial effects on health. This is also the case in our information on healthy asparagus, where you can also find the relevant studies on this topic.
Quinoa: Possible cause of allergies and intolerances
Whether you have an allergy or intolerance to quinoa (or another food), in most cases the symptoms appear within 2 hours of consumption. Sometimes, however, it can take 4 to 6 hours or even longer for the reaction to the food in question to show up. The longer it takes for a reaction to occur, the more difficult it is of course to establish a connection. A food diary and / or a nutritionist can often help.
donation
Your donation helps us
If you enjoyed this article, we would appreciate a small contribution to our work! Donate now with Paypal.
display
Distance training to become a holistic nutritionist
Are you interested in what's in our food and want to know how nutrients and vital substances affect the body? Do you want a healthy life for yourself, your family and fellow human beings? Nutritionists are popular - but the holistic aspect that is needed for sustainable health is often forgotten when giving advice. At the Academy of Naturopathy, you will get to know the connections between lifestyle and diet as well as physical and psychological well-being.
That educates interested people like you in around 16 months to become a holistic nutritionist out.
Is this article worth reading?
Share this article
swell
Nall R, Am I allergic to saponin ?, Medical News Today, June 6, 2018
Kesh S, Barnes CS et al., Association of quinoa and apple sensitization, February 2018, Journal of Allergy and Clinical Immunology
Notice on health issues
This information is passed to the best of my knowledge and belief. They are intended exclusively for those interested and for further training and are in no way to be understood as diagnostic or therapeutic instructions. We do not assume any liability for damages of any kind that arise directly or indirectly from the use of the information. If you suspect illness, please consult your doctor or alternative practitioner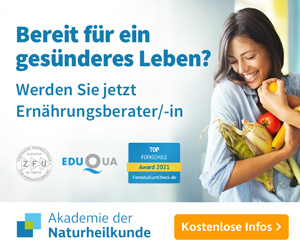 Subscribe to Newsletter
Exciting information about health and nutrition
1x per month
Login Successful. You will shortly receive a confirmation at the specified email address.
With your registration you allow the regular sending of the newsletter and accept the data protection regulations.
HEALTH CENTER © 2021 Neosmart Consulting AG. All rights reserved.