Sustainable fashion: buy clothes consciously
Status: 08/14/2020 10:23 a.m.
Many people buy more clothes than they need. Often it is not even worn.
German consumers buy an average of 60 items of clothing each year, 40 percent of the clothing is never or only rarely worn, according to the Federal Environment Ministry. The production and purchase of fast-moving cheap fashion has more than doubled since the turn of the millennium - and continues to increase, with massive effects on people and the environment.
Forego "fast fashion"
But consumers can help protect the environment and prevent exploitation - through conscious fashion consumption. Because everyone decides: What do I wear, do I buy or do I throw away? Less quantity, more quality is the motto: buy less clothes, but pieces that are better made and therefore last longer. They are more expensive to buy than cheap goods, but the price becomes relative over time. Clothing should also ideally be timeless. Last but not least, life is more relaxed if you do not submit to constantly changing fashion trends.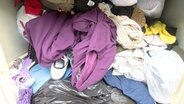 AUDIO:
Fast fashion: first fashion, then garbage (15 min)
Pay attention to seals when buying
Anyone who buys clothing that is marked with a recommended seal helps to reduce the burden on the environment and pay higher wages. Unfortunately, the seal market is confusing. It is therefore easiest to first pay attention to organic cotton when it comes to cotton clothing. They are now also available from large retail chains. The laundry slip should read: "Made from ...% organically grown cotton".
The Siegelklarheit portal gives an overview of recommended clothing seals, which assesses the various seals in terms of credibility, environmental friendliness and social compatibility. "Blue Angel", "EU Ecolabel", "Fairtrade" for cotton and textile production, "GOTS" and "Naturland" are recommended.
Buy and sell second hand or swap clothes
There is a large selection of used textiles in thrift shops and flea markets.
You can buy and sell clothes in thrift shops and flea markets. There is a large selection of used children's textiles at clothing bazaars. That saves the environment because less has to be produced, and at the same time it saves money. People interested in fashion will also find cheap branded clothing, older, high-quality clothing (vintage) and special pieces there. You can also buy clothes that are in good condition via online portals and sell them on.
You can also swap clothes. What is banned from the closet may please friends, family or work colleagues - or vice versa. In many cities there are public clothing swap fairs with a larger selection or private clothing swap parties. Information and tips are available on the Internet.
Borrow and rent instead of buying
It is often not worth buying clothes, especially for special and often one-off occasions such as weddings, festive parties or celebrations. Instead, you should see whether the piece can be borrowed from friends or acquaintances. Textiles can also be rented, in stores or online. Some online portals offer memberships if you want to borrow clothes more often or for longer.
Repair, change, upcycling and DIY fashion
Well-made textiles are often easy to repair.
Clothing used to be considered valuable, it was repaired and applied. For those who value clothing, this is still true today. In well-processed textiles, minor damage can be easily repaired. Discarded parts can be modified or processed into new pieces. Even holes are considered a trendy look today.
Whether shortening, sewing around or sewing on: redesigning and repurposing old parts is the trend. A dress can be sewn from a T-shirt and a skirt or a bag can be made from a pair of trousers. There are countless instructions and tutorials on the Internet under the keywords "Upcycling" or "DIY Fashion".
Whether dress or bag: New pieces can be sewn from rejected items of clothing.
Those who do not sew themselves: Tailoring alterations take on repairs or redesigns. This also supports small shops in the neighborhood. If items of clothing are badly worn, parts such as buttons or zippers can often still be used.
Pass on discarded clothing
Well-preserved clothing that you no longer wear can be given away or given to charitable organizations. These run clothing stores or social department stores. You should avoid illegal clothing collections, picking up used clothes on the street or setting up containers without a permit. Suitable containers can be found through FairWANY e.V., an association of non-profit organizations with their own seal, or through the municipality. Attention: Cheap fashion, which often consists of inferior man-made fibers or fiber mixes, is neither suitable as second-hand goods nor for further use in used textile recycling.
Keep your wardrobe small
If you tidy up your wardrobe regularly, you have a good overview of what you really need.
It is advisable to clear out your wardrobe radically and to regularly get an overview of your clothes. This creates space, has a liberating effect and protects against buying unnecessary new items of clothing. At least once a year you should take a look at your wardrobe and ask yourself critically what you are actually still wearing. With a good overview, you can only buy what you really need. And ideally that should be a few timeless favorite pieces that complement each other and can be combined in a variety of ways. On the Internet there is information on the concept of a minimalist wardrobe under the term "Capsule Wardrobe".
Sustainable fashion consumption: what else to watch out for
Washing laundry properly: So that you can enjoy your favorite items for a long time, you should only wash them as often as necessary, this is gentle on the fibers. With these laundry washing tips, you can enjoy your clothes for longer.
Make targeted choices online: When shopping online, you should always be cautious, when ordering, you should pay attention to the size information. Because shipping and delivery pollute the environment, especially when goods are returned. In addition, some returns are destroyed as so-called rejects.
Buy from fair and ecological brands: The most sustainable way to buy textiles is from fashion brands that only offer fair and ecological clothing. On the Internet, sites such as Get Changed or Utopia give an overview.
This topic in the program:
NDR Info | Speaking time | 08/05/2020 | 8:50 pm