How liberal is California
California is bringing its US primaries forward to Super Tuesday
The sun is shining and the wind is blowing in the Mission District of San Francisco, a district south of downtown San Francisco. Hipster bars, yoga studios and upscale fashion stores have settled in the main streets of the district, but right around the corner the sidewalks are lined with homeless people and the roots of the many Latin American residents cannot be overlooked. Here Liliana and Carlos sit at a folding table in a side street and sell empanadas for three dollars from a Tupperware box. The two are originally from Mexico. "We need a change," says Liliana, but since she does not have US citizenship, she is not allowed to vote - and she is also completely ignorant of politics and the candidates. Your daughter is allowed to vote, but "we never talk about politics when we're together, we'd rather spend the time doing something nice". Her friend Carlos doesn't vote either: "That won't do anything anyway."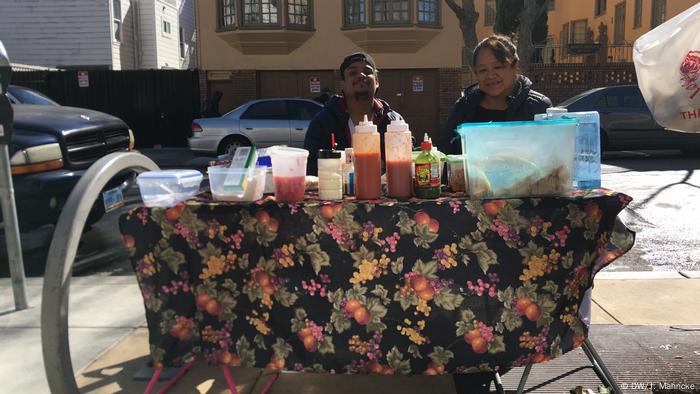 Liliana (r.) And Carlos sell empanadas in the Mission District
California's new influence
Traditionally, there has been little interest in the West Coast primaries, as in the past California only got involved in the vote in June. Then the decision was often already made in the rest of the country, because the earlier a state holds primaries, the more the residents can influence the final result. However, this time everything is different. California's politicians voted for the vote this Tuesday, known as Super Tuesday, along with 13 other states (Texas, North Carolina, Virginia, Massachusetts, Minnesota, Colorado, Tennessee, Alabama, Oklahoma, Arkansas, Utah, Maine and Vermont), the overseas Democrats and American Samoa.
More than a third of the total delegate votes will be given on Super Tuesday. The individual states assign delegates to the candidates, depending on the respective election results in the primaries, who then elect the presidential candidate at the Democratic Party Conference in July. California has the highest number of delegate votes at 415.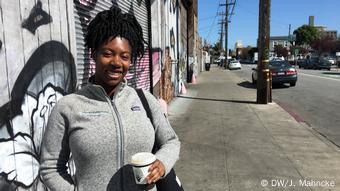 JoAnne Williams thinks the Californians could do more
The residents still have to get used to the new role, says JoAnne Williams. She's just got out of one of the Mission District yoga studios. She lived in Harlem, New York for a long time and wonders about the people in San Francisco and how little politics play a role in everyday life: "The culture here is totally different, the people live in their own world. I have just had this week with myself I struggled to make a calendar entry for my team at work so that everyone would remember that there are area codes. " Williams works in the finance department of one of San Francisco's big tech companies and plans to vote for Elizabeth Warren, partly because the Massachusetts Senator has advocated tighter regulation of banks to protect consumers.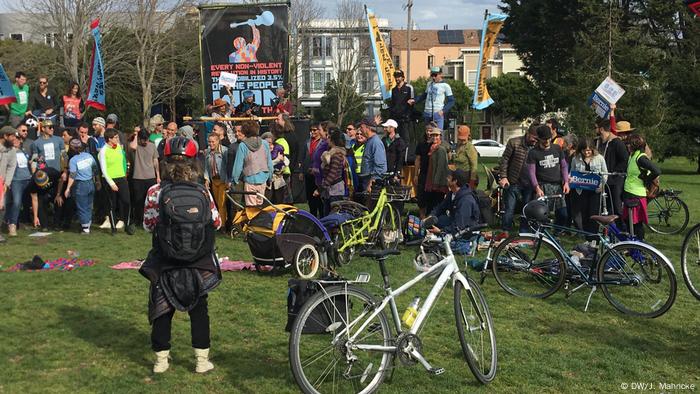 Sanders buttons and posters can be found in abundance in San Francisco. A support group meets here in Dubroce Park before cycling through the city
Sanders remains the favorite
Warren is currently in third place. With just eight delegate votes from the previous election, she is far behind Joe Biden and favorite Bernie Sanders. The Vermont Senator from the left wing of the Democratic Party has the best chance of getting delegate votes in California. He could extend his lead over Joe Biden, the former vice president. Michael Bloomberg, billionaire and former mayor of New York, is only now officially entering the race and could compete with Sanders and Biden.
Tulsi Gabbard, MP from Hawaii, has little chance of getting delegate votes, because in California candidates have to overcome the 15 percent hurdle to get votes.
California is known as a blue state, so it leans towards the Democrats. But that is mainly due to the many liberal residents in the big cities. In Orange County and the Central Valley, the working and lower middle classes tend to vote conservatively. In the Democratic primary, this will probably be reflected in the number of votes for Bloomberg, which is known for supporting Republicans at one point or another.
Who can beat Trump?
He will definitely get Harrison Tucker's voice. Tucker works for a sustainable construction company in San Francisco and is originally from North Carolina. The best way to prevent his family and friends from voting for Trump would be if a conservative candidate like Bloomberg ran for the Democrats. "Nobody would vote for Sanders or Warren. Those candidates are anti-capitalists and that scares the people in North Carolina. They fear that the Democrats will ruin the economy." Like many others, Tucker will vote strategically and not necessarily cast his vote for the candidate he likes best thematically.
One of the most popular election campaign strategies is to stick flyers on doors or to ring the doorbell directly to convince residents in the conversation
Megan, a young white woman who only wants to reveal her first name, uses a different strategy. She is distributing flyers for a local candidate in the neighborhood, as there will also be votes on numerous local offices on Tuesday. Megan now resides in San Francisco, but is still registered as a voter in her old home, Orange County. "My voice has a lot more weight then." And, like last time, her vote goes to Bernie Sanders again. The subject of the environment is most important to her.
Elections are not everything
He's registered as a voter, but Maurice has no idea about politics, he says. He sits in Cafe Manny's, which is a popular hangout in the Mission District. You can have coffee and lunch here, but there are also political events and the Democratic debates are shown on television. Maurice, a 25-year-old African-American, also wants to remain anonymous. Americans don't like to talk about politics with strangers. But in Maurices' case, not with friends either. "I get a little bit of information on social media, but we don't talk about the elections. Nobody cares and people my age don't give a shit." They would have other problems. Money is scarce for many, some are drug addicts or sell drugs because they cannot find other jobs. In the last six months alone, nine of his friends have died: shot, suicide, overdose.
But Maurice wants to get involved more. The talk he just heard at Manny's on the electoral system in California was very interesting. He definitely wants to vote and wants a candidate who stands up against corruption and for social fairness. He immediately signed up for the email list of Indivisible, a nationwide group that campaigns against Trump's re-election.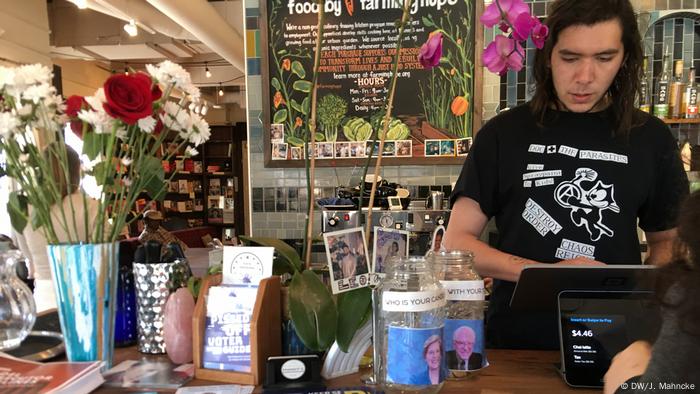 In Cafe Manny's there is information material about the elections and two tip glasses with Sanders and Warren pictures adorn the counter
The polling stations in California are still open until Wednesday, 5 a.m. German time. The first results are then expected, but the Californians are allowed to send their ballot papers by post on Tuesday, so that the official final result will be a little longer in coming. For a nomination as a presidential candidate in 1991 the total of 3979 delegate votes are required. On the so-called Super Tuesday, 1357 are distributed in one fell swoop. As a result, more candidates are likely to drop out of the race after the results are announced, as Pete Buttigieg and Amy Klobuchar did shortly before Super Tuesday.