What do the Greeks think of Turkish tourists?
Greece: rich Turks bring money
In the 60,000-inhabitant city of Alexandroupolis the bear is raging: the local business people are experiencing a season that even the large Aegean islands can only dream of. Because here there is tourism all year round. "We mainly live from Turkish tourists. At first we were all astonished and cautious about the Turks. But now we know: Nothing better could have happened to us," says Kyriakos Stogios, smiling all over the place.
His fish restaurant is not even right on the water, like most other restaurants in his hometown. And yet, his shop is considered a popular spot for well-heeled Turkish businessmen and civil servants who don't necessarily have to turn their lira three times before spending it.
Last year, Turkish guests made up 80 percent of sales in Alexandroupolis. And even after the Turkish lira plummeted, business people in northern Greece are now expecting only a small loss. Because apparently countless rich Turkish guests with families in their own car still pass the nearby Kipoi border crossing every day to spend a relaxing weekend in Europe.
Mezedes, ouzo and no Erdogan
Damianos Makarios also knows that you are not dealing with the simple Turkish average consumer. He has been working as a waiter for 18 years and has carefully studied the Turkish guests. "If they pull up here in a car worth 140,000 euros, you don't have to ask any further," explains the friendly man and walks to the next table to greet the next company in Turkish. "I always thought everyone was for Erdogan. But most of those who come are not. And despite the devaluation of the lira, most of them can still eat cheaper here than in Izmir or Bodrum."
While you have to reckon with 30 euros per person in the Greek restaurant, in the coastal towns of Asia Minor you pay up to 70 euros in the restaurant. Many Turks visit Alexandroupolis mainly for the Greek fish mezedes. Or they enjoy carefree alcohol, which is cheaper in Greece than in their Muslim homeland.
Sometimes some would like to speak more openly about the political situation in their homeland, says Damianos Makarios: "There was a group here and saw Erdogan on the Greek news. That angered them. They shouted: Open the box! We are coming here to hear nothing from him - and see him on television! "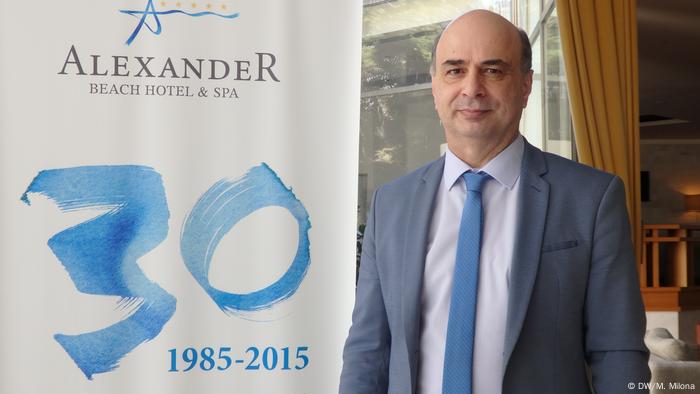 Hotel director Dimitris Xanthoulis has "completely adjusted to this clientele".
Everything that is forbidden
His guests, says Dimitris Xanthoulis, manager of a 5-star hotel, also come from Turkey because they love gambling. "Next to our hotel is the casino. That is forbidden in Turkey. Alexandroupolis has completely adjusted to this clientele." In the hotel sector, Turkish tourists have so far made up about half of sales.
However, Xanthoulis only fears a slight loss of 10 percent at most as a result of the fall of the lira. These guests have obviously made provisions for times of crisis and have enough euros and dollars in their savings bag. Xanthoulis: "However, they hope that there will be no foreign sanctions for Turkey."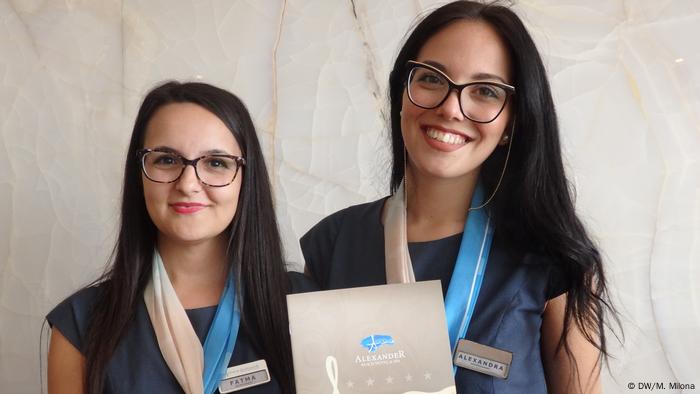 Fatma Selim and Alexandra Maladaki speak Turkish and owe their job in the hotel to this talent.
Financially independent, but not free
I expected the Turkish guests to speak more openly about the situation in Turkey to a journalist. But most of them are afraid. They want to remain anonymous and only reveal a little. Except for Onur Mustafa. He is a regular in Alexandroupolis. But even he only speaks behind closed doors and does not want to give his real name.
"I come from the 15 million metropolis of Istanbul because Alexandroupolis is only 2.5 hours away from my house. We can be oriental and European at the same time. There are two kinds of Turkish compatriots. One is very poor, you can see Nothing at all and don't know anything. The others are very rich, modern and very well informed. "
Onur Mustafa believes in Turkey's economic performance and Turkish quality work. Especially in electronics and textiles. In addition, it is currently cheap to export from Turkey.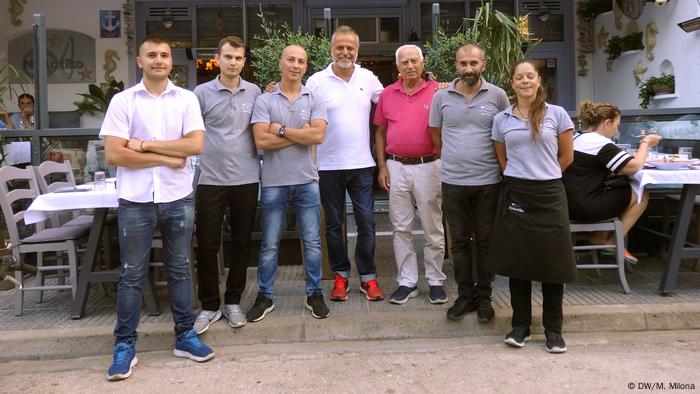 The staff at the Kyriakos Stogios tavern also make a good living from the visitors from Turkey.
When Europe is so close ...
The plunge in the lira will not last long, according to this young Turk. "But I also come here because the plane tickets to Europe are too expensive at the moment. For me, traveling by car to European Greece is a cheap alternative to other European destinations."
In addition, there are over 20 million Turks who are so rich that a weakened lira cannot prevent them from enjoying a good life, he explains. And the tavern owner Kyriakos Stogios still lives very well from these: "In Alexandroupolis we definitely owe our guests next door that we didn't feel the crisis."