Are news channels reliable
Drosten: "Rapid tests are probably less reliable than expected"
Status: April 13th, 2021 6:00 p.m.
In the new episode of the Coronavirus Update podcast, virologist Christian Drosten points out that rapid antigen tests are probably even less reliable than expected in detecting the first few days of an infection. That is why they only offer a deceptive security - for example, during admission controls in the theater.
by Marc-Oliver Rehrmann
Drosten does not consider the binding emergency brake decided on Tuesday in the federal cabinet to be sufficient to defuse the tense situation in the hospitals. "I don't expect that you can use it to control the situation in intensive care medicine," says Drosten. "I think that we will have to react differently in the very near future." It is currently a very difficult situation in intensive care medicine - also due to the "massive shortage of nursing staff".
Workplace testing is a powerful tool
The virologist at the Berlin Charité considers compulsory tests at the workplace to be the first step in the right direction - even if two tests per week would make more sense than just one test. "I think it's particularly important that testing is prescribed at all. It's an effective tool." However, it is important to react immediately to the positive result of a rapid test and to take isolation measures for those affected immediately, without first waiting for the result of a subsequent PCR test.
Rapid tests only detect an infection on five out of eight days
With a view to opening strategies in Germany - now and in the further course of the pandemic - Drosten emphasizes the importance of antigen tests. "We absolutely need these rapid tests." But it also points to a weakness of the rapid tests: unlike PCR tests, they often cannot detect an infection even in the highly contagious phase at the beginning. This would have been shown by practical experience in the diagnostic laboratories. "The rapid tests do not work until day one after the onset of symptoms, but by then you have been infectious for three days," says Drosten. "If you assume that an infected person is usually contagious for eight days, that means: I use the antigen test to discover an infection on five out of eight days, and on three days I will miss it." . "The virologist also expects study data on this effect in the coming months.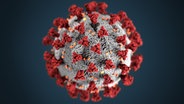 AUDIO:
The new podcast episode: Don't rely on tests and vaccinations (99 min)
Do not rely on rapid tests at events!
That is why it is dangerous to rely on the result of a quick test during admission controls - for example when going to the theater or a concert, at the entrance door of a restaurant. If a rapid test "misses" an infection, that person will walk around assuming it is not contagious - and so may at times infect others. "It's not as simple as it is portrayed in politics - according to the motto: Everything can open now because we have the rapid tests." Between 40 percent and 60 percent of infections are overlooked in rapid tests, according to Drosten.
Rapid antigen tests make sense in schools
Drosten also makes it clear that the use of rapid antigen tests in schools is still justified - if the pupils are tested at least twice a week. "Even if not all infections are discovered during a test, the infections are detected during the next test after two or three days. In clusters, such a slight delayed effect is not a problem," says the virologist. It is only important to track down infections in a cluster in order to maintain control in the schools during the pandemic and then to react quickly with cluster quarantine.
Which virus variant will dominate after vaccination?
For many scientists, with a view to the ongoing vaccination campaigns, the question arises today: Will the proportion of certain coronavirus variants change in the few people who are still infected after a full vaccination? There is a new study from Israel about this. Above all, the role of the South African variant is important, as it is considered an immune escape variant. In other words, you may be able to evade the body's immune response. "The South African virus was lying in wait in the background in Israel, the proportion is around one percent - very similar to that in Germany," says Drosten, describing the initial situation. In Israel, too, the British variant is by far the most dominant - with a share of around 90 percent.
South African variant: only a harmless cold virus in an immune population
Figures from Israel now show: If a coronavirus infection is detected by a PCR test in a fully vaccinated person, then the proportion of the South African variant is 5.4 percent - and thus 8 times higher than in non-vaccinated people. For those, the proportion of the South Africa variant was 0.7 percent. In other words: "For the few people who become infected despite being vaccinated, there is a greater residual infection with the South African virus because it is fitter than other variants." In the long term, this means: According to Drosten, the South African virus will continue to spread in a completely vaccinated population - and at some point it will likely dominate. "Only: This phenomenon will then take place in an immune population, which means: We then have a dominant, relatively harmless cold virus - although from our point of view it is the nasty South African variant," says the virologist in the podcast of NDR Info.
Coronavirus update: all consequences
The virologist Christian Drosten provides expert knowledge in the podcast Coronavirus Update - together with virologist Sandra Ciesek. Here is an overview of all the episodes. more
This topic in the program:
NDR Info | 04/13/2021 | 17:00 o'clock